Silva dreams of Cesc arrival
David Silva has revealed he would love Spain team-mate Cesc Fabregas to join him at Manchester City.
Last Updated: 14/05/11 11:45am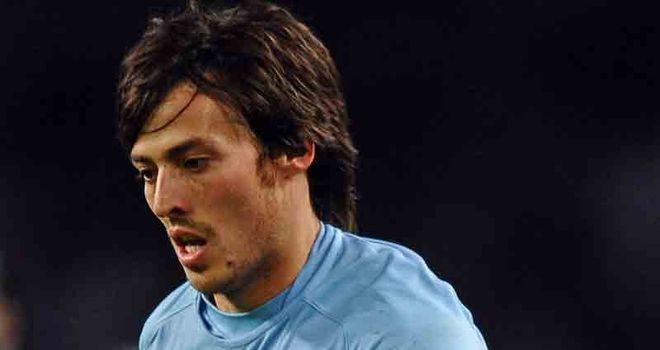 David Silva has revealed he would love Spain team-mate Cesc Fabregas to join him at Manchester City.
Fabregas' future is set to be the subject of intense speculation once again this summer following another trophyless season for Arsenal.
Barcelona continue to be linked with the midfielder after attempting to secure his services 12 months ago, while City manager Roberto Mancini is also reported to be interested.
Silva is fully aware of Fabregas' qualities, both on and off the field, and believes such a swoop would be ideal for City.
"If only he could come, it would be great, marvellous," Silva said in The Sun.
"We know what he's achieved as a player and he has a lot of experience of playing in England.
"He likes to keep the ball and that's how we like to play. He treats the ball as his friend and I get on with him well.
"I know him from the national side, so it would be great."
Vital player
While City will undoubtedly be looking to strengthen their squad this summer, one player who could leave is talismanic striker Carlos Tevez.
Mancini has urged the Argentine to make a decision on whether he wants to stay, and Silva feels it is crucial that he does.
Silva said: "Carlos is a vital player for us. He's the real key player for Manchester City.
"He's great to play alongside and I feel at ease with him, very comfortable. He makes things easy.
"He's a real character, not just as a player but he's a top guy and it's very important he stays."
Silva's immediate focus is on Saturday's FA Cup final against Stoke, when City could end a 35-year wait for silverware.
Despite being a European Championship and World Cup winner, Silva insists it is still one of the biggest games of his career.
He said: "It would be just as meaningful for me in the sense that it's been a good while since City won a trophy or even got into a final, so I know how important it is for the people who follow this club.
"Because I've had such a good time here and been treated so well by the fans, it's important I can give something to them. Give them a victory."
Watch the FA Cup final live on Sky 3D, brought to you by ESPN