Levein explains Fletcher stance
Craig Levein is leaving the international door open for Steven Fletcher, but insists nothing has changed.
Last Updated: 17/05/11 3:56pm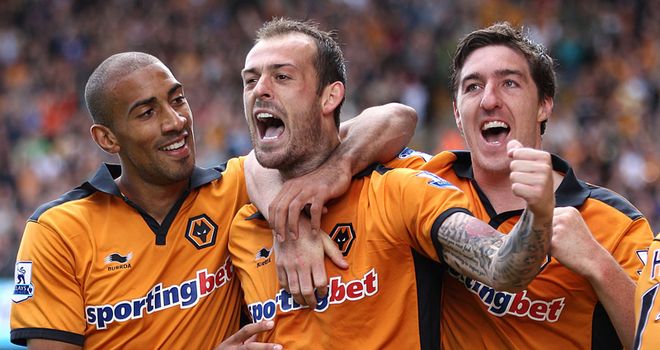 Craig Levein is leaving the international door open for Steven Fletcher, but insists nothing has changed regarding the Wolves striker.
Fletcher pulled himself out of consideration for Scotland's Carling Nations Cup opener against Northern Ireland in February.
He has been in fine domestic form of late, aiding Wolves' Premier League survival bid, and would have been a useful addition to Levein's latest squad.
The Scotland manager is refusing to select the 24-year-old, though, until he is informed by the former Hibernian and Burnley forward that he wishes to be drafted back in.
Levein said: "The situation with Steven is exactly the same as before - if Steven indicates to me that he wants to be involved in the Scotland national team, then I'll consider him."
When asked if the door was not closed for Fletcher, Levein said: "He just needs to open it. I have absolutely no problem with Steven, as I've said in previous times, but really I'm here to talk about people who are selected."
Paperwork
Scotland's next outing sees them take on Wales on 25th May, before facing Republic of Ireland in their final Carling Nations Cup fixture.
Levein has drafted uncapped pair Russell Martin and James Forrest into his squad for those games and insists he will have no problem in thrusting the Norwich and Celtic duo into action.
"Russell has had a fantastic season at Norwich City, and congratulations to Paul [Lambert] and his backroom staff and players for getting promoted to the English Premier," Levein said.
"Russell is one we have had our eye on for a while. He's in the squad but there are still elements of the paperwork to be finalised.
"If we can't get it done in time, so be it, but I'm confident. His father is Scottish so it shouldn't be too difficult.
"Norwich have been in the States celebrating and he has flown back early to get the paperwork done."
Talented
On 19-year-old winger Forrest, who has become a regular at Parkhead this season, Levein said: "In keeping with adding young talented players to the groups in recent games, we have added James for this particular match because I feel he'll be an international footballer of some repute in years ahead.
"The idea is to get them used to travelling and being involved in international football so when they become regulars it's second nature to them.
"I believe it's much easier for a player to feel at home in international football if they feel involved. But I'm sure he's the type of player to bring a smile to people's faces."