Odemwingie needs a break
Peter Odemwingie admits he is in need of a rest and must plan how best to negotiate a busy summer.
Last Updated: 17/05/11 4:22pm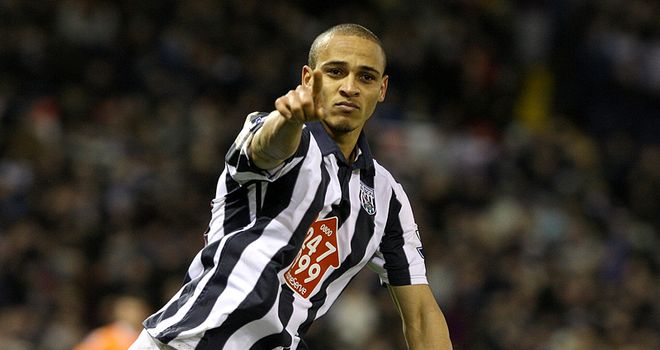 Peter Odemwingie admits he is in need of a rest and must plan how best to negotiate a busy summer.
The West Brom striker is one game away from completing his first Premier League campaign but knows his commitments stretch on for some weeks yet.
International duty with Nigeria beckons at the start of June, before he takes in a testimonial for fellow countryman Nwankwo Kanu.
Odemwingie, who has bagged 15 goals during his debut season in England, is desperate to spend some time relaxing before the 2011/12 campaign and plans to speak with the Baggies' medical staff in an effort to draw up a fitness programme which will suit all concerned.
He told the Express and Star: "I have international duty to prepare for as soon as the Premier League season is over.
"We've got a prestige friendly against Argentina and then a qualifying game against Ethiopia. That is on 5th June.
"After that I have to play in Kanu's game in Lagos on 11th June. It's not a serious game but Roy Hodgson wants us back by 4th July.
"I need to get to the beach because it's been a couple of years since I've had the chance to do that.
"I need a nice break but I need to see the medical people here to see how best to go through the summer, or what there will be of it."
Endurance
Former Lokomotiv Moscow frontman Odemwingie is determined not to allow his fitness levels to drop, as he feels they have improved over the course of the season, but knows he must rest his battle-weary body after playing competitively virtually non-stop for 18 months.
He said: "It's a difficult league to play in. Very physical, very fast. You don't have much time on the ball at all, the teams press a lot but I think I have been lucky, playing the type of football which suits me.
"When I arrived I spoke with the gaffer at the time, Roberto Di Matteo, about how I would play and it became clear to me the system was similar to the one I played in with Lille. I said 'yes'.
"I've felt good physically, my endurance levels have definitely been raised. That's why I feel physically good. More energy will give me extra chances to score.
"I now feel strong enough to cope with the intensity of football in this division."
The 29-year-old has also revealed that the noises coming out of the West Brom boardroom regarding a possible new contract are 'positive'.
Reports have suggested that a number of clubs are monitoring Odemwingie's situation ahead of the summer transfer window.