Inter eye Pastore and Sanchez
Massimo Moratti believes Inter Milan could sign Javier Pastore or Alexis Sanchez.
By Simone Bargellini
Last Updated: 18/05/11 2:17pm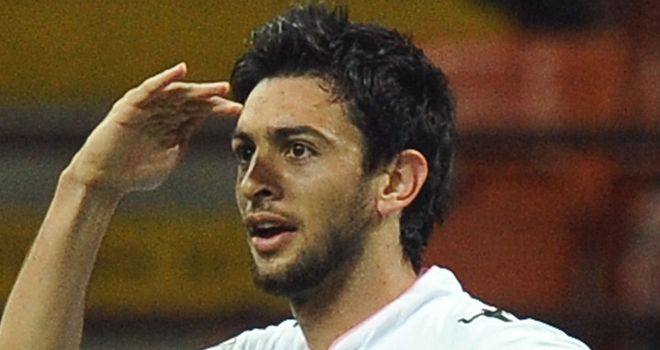 Massimo Moratti believes Inter Milan could sign Javier Pastore or Alexis Sanchez, but has played down the chances of snaring a number of other high-profile names who have been linked with the club.
Moratti declared earlier this week that he would love to re-sign Zlatan Ibrahimovic, but has now admitted that such a move would be impossible.
He does not believe it is realistic to think about bringing in Lionel Messi or Napoli striker Edinson Cavani either, but is more upbeat about Udinese's Sanchez and Pastore of Palermo.
In an interview with Italian TV show Le Iene, he was asked to provide a mark out of 10 to signify the chances of recruiting certain players this summer, and he rated a swoop for Pastore as slightly more likely than one for Sanchez.
"Sanchez? I'd say four out of 10," Moratti said. "I don't think we can get him, he's too expensive.
"Palermo's Javier Pastore? Five. Napoli's Edinson Cavani? One. Barcelona's Lionel Messi? Eight...That would be nice, but I'd have to say zero.
"Zlatan Ibrahimovic? I'd like to say 10, but it is a zero."
Rafa criticism
Moratti was also asked about the coaches he has worked with at Inter and was scathing in his assessment of Rafa Benitez's approach.
Leonardo replaced Benitez midway through the season and Moratti has once again given his backing to the Brazilian, despite admitting that he would also welcome back last season's Treble-winning boss Jose Mourinho and Manchester City's Roberto Mancini.
"Rafael Benitez did upset me towards the end," said Moratti.
"He is a coach who constructs, but there was nothing to build here.
"He wasn't the ideal successor to Jose Mourinho, a tactician who deserves to return here because he was the best from the last 15 years.
"But I'm fond of all our former coaches, even Mancini. One day he might be back too.
"Leonardo? It's all going very well with him. All coaches need a period to win and I think he'll be able to take advantage."