Utd duo receive Iniesta respect
Man Utd veterans Paul Scholes and Ryan Giggs have the respect of Barcelona star Andres Iniesta.
Last Updated: 21/05/11 12:40pm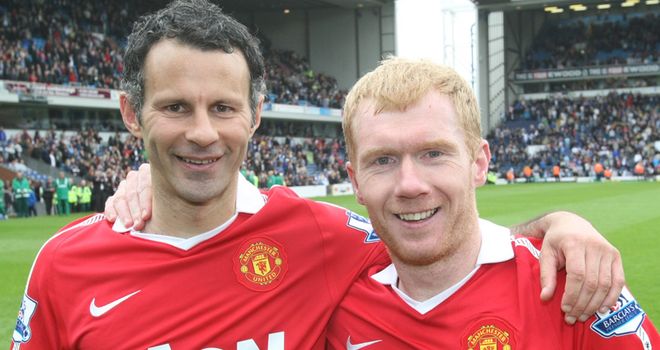 Manchester United veterans Paul Scholes and Ryan Giggs will receive the ultimate respect of Barcelona star Andres Iniesta in next Saturday's UEFA Champions League final.
The Spaniard has labelled the two Old Trafford icons as 'shining examples for any player' ahead of their showdown at Wembley, when both United and Barcelona are hoping to complete a domestic and European double.
Iniesta is also full of admiration for United's England international, Wayne Rooney, but the achievements of Scholes and Giggs mark them above the rest.
"Rooney is one of the best players in the world and I love watching him play," said Iniesta in The Independent.
"They have Nani as well and a very good defence. But if you had to pick out only one, then for their history and for all that they have achieved it would have to be Paul Scholes or Ryan Giggs. They are two shining examples for any player."
Iniesta also spoke of his respect for Barcelona coach Pep Guardiola, who has guided the club to three successive Primera Liga titles since taking charge in 2008, as well as Champions League glory in 2009.
Solutions
"He is very important for us," said the 27-year-old. "I think we all agree that he has been the key to the success of this team.
"It is what he transmits to the players - his knowledge of the game, the club and all that surrounds it.
"He is a coach that gives you solutions. In matches when things are not going well he comes up with the answer.
"The players are ultimately the decisive ones because we are on the pitch, but it's fundamental to have a coach who you can actually learn from."
Iniesta also has personal ambitions ahead of Barcelona's trip to Wembley, having only been a substitute when Arsenal were beaten in the 2006 Champions League final while he carried a thigh injury in the win over United three years later.
"I was a substitute in Paris and injured in Rome. Hopefully, for this game I will be in perfect condition to play," he said of next weekend's final.
"It's been a good season, as much individually as for the team, I've been able to add goals to my game. Every player wants to be as complete as possible and goals for a central midfielder are very important."