Edwin ready for 'sad moment'
Edwin van der Sar is not looking forward to making his final Premier League appearance for Man Utd.
Last Updated: 21/05/11 8:18pm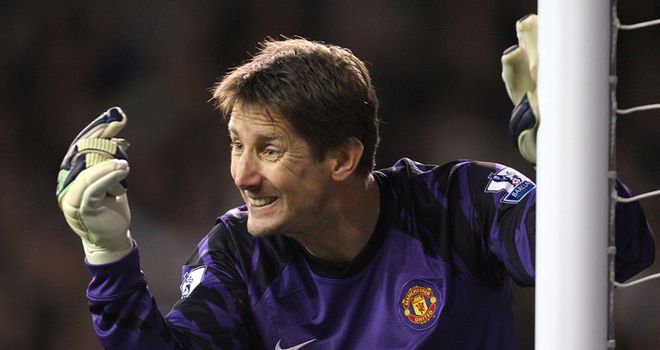 Edwin van der Sar admits he is not looking forward to making his final Premier League appearance for Manchester United on Sunday.
The Dutch goalkeeper is retiring at the end of the season and he is set to captain the champions against relegation-threatened Blackpool on his last game at Old Trafford.
Not normally prone to moments of emotion, the 40-year-old did not even start thinking about the prospect of retirement until a couple of weeks ago.
However, the enormity of life away from the stresses and strains of training and matches has now started to sink in, making Sunday's occasion all the more difficult.
Memories
"I am not looking forward to it," Van der Sar told MUTV. "It is a sad moment. You don't look forward to those. I just have to make the best of it.
"I wouldn't say it has come round quickly. I had not really been thinking about it. Once I knew what I was going to do, I remained focused on the games and the training.
"It is only in the last two weeks that it has really sunk in that I am running out of time.
"Hopefully, though, the memories I will get this weekend I will be able to keep with me for the rest of my life."
Meanwhile, with Blackpool needing a positive result to have any chance of staying up, United midfielder Paul Scholes has praised the Seasiders' manager Ian Holloway.
Scholes said: "Ian Holloway's press conferences are brilliant. Listening to what he has to say is something to look forward to on a Friday afternoon.
"He has been great for Blackpool. The way they have approached the season is a breath of fresh air.
"They want to come out and score goals and even against us, I am sure they won't just try to sneak the odd goal and defend."