Nolan keen for Barton to stay
Kevin Nolan wants Joey Barton to stay at Newcastle as he prepares to pledge his own future to the club.
Last Updated: 22/05/11 12:45pm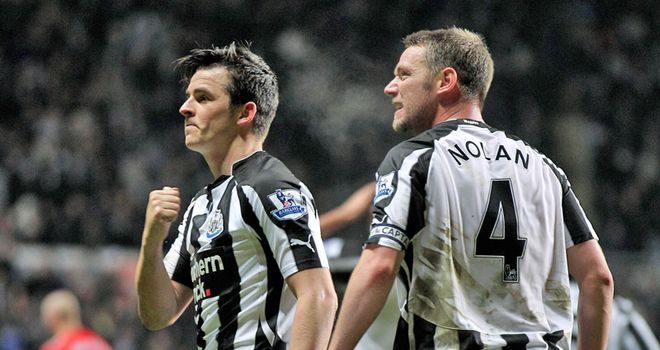 Kevin Nolan is anxious for midfield cohort Joey Barton to stay at Newcastle United as he prepares to pledge his own future to the club.
Former Bolton Wanderers midfielder Nolan is the Magpies' top scorer this season and is reportedly close to agreeing a new contract at St James' Park.
Newcastle are also trying to keep Barton on Tyneside for the long term after Nolan's fellow Liverpudlian played a key role in preserving the club's Premier League status.
Nolan said: "Over the last two years I feel I've proved myself here but I don't want it to stop at that. I want it to go on over the next three, four or five years."
Big player
And he added: "I'd like us to keep Joey. He's a big player and he has said he wants to stay.
"We all want Joey to stay, we want to keep this squad together. We can't afford to lose any other big players."
The club are less hopeful of retaining Spanish full-back Jose Enrique, another key player whose contract ends next year and who has been linked with Liverpool.
But Nolan, the club captain, believes the core of a squad to push for Europe next season is in place and feels further acquisitions can take them to the next level.
"The Europa League is the minimum this club should be aiming for," he continued. "We have the potential to do it.
"The most important thing is bringing in the right people, who understand what it takes to play for this club.
"That's what they do at Arsenal, Liverpool and Manchester United. As soon as new players arrive, they know what is expected of them. That's what we need here."