Messi targets team success
Lionel Messi will put Barcelona's needs ahead of his own in Saturday's UEFA Champions League final.
By Jamie Casey
Last Updated: 22/05/11 2:06pm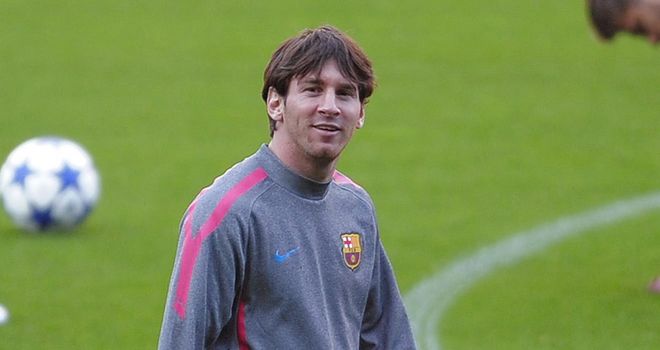 Lionel Messi will put Barcelona's needs ahead of his own in Saturday's UEFA Champions League final against Manchester United.
The Argentine superstar, who has 11 goals in the competition, is one goal shy of Ruud van Nistelrooy's record for the number of goals in a Champions League campaign.
Barcelona are aiming for their fourth European Cup in the Wembley meeting, as are United, and Messi insists team glory is more important than a personal record.
"Goals are only important if they win you games," the Argentina international told The Sunday Mirror.
"If I don't score and Barcelona win the Champions League it's unimportant whether I find the net or not.
"My interest is in the collective success of the team, not individual glory."
For all his goalscoring exploits, Messi has never scored on English soil but the 23-year-old, who has scored a remarkable 52 goals in all competitions this term, is unconcerned by that fact.
"I've not given any great deal of thought about not scoring in England," he said.
"And I'm not driven by the desire to score more goals in a Champions League campaign than any other player. If it's meant to happen, it will happen."
Danger
Messi, who scored when Barca beat United 2-0 in the 2009 final, recognises the danger United possess, hailing longstanding manager Sir Alex Ferguson in the process.
"We're not complacent, they present a very serious threat," he said. "You don't meet with the consistent success they have by chance. I have the greatest respect for them.
"They have a unique and exceptional coach in Ferguson. To stay at one club so long and secure so many trophies is remarkable.
"I also feel they will have the added advantage of playing in England. It's not Old Trafford but Wembley will be as near to a home game as you can get."
Having also been a part of Barcelona's 2006 side which triumphed over Arsenal, Messi is seeking his third European Cup winning medal.
The free-scoring forward expects an exciting encounter between two sides he believes merit a place in the final, after each securing their domestic league titles.
"They are unlikely to try and stifle our play so it should be a very entertaining game between two great sides.
"It's a fitting final between two champions of their respective leagues.
"You come up against the best teams and players in Europe and therefore winning the Champions League brings you justifiable accolades.
"I would never tire of winning it. I love the excitement, the anticipation and the pressure to perform on the biggest stage."