Wilson hopes to keep place
Celtic defender Mark Wilson is determined to build on his end to the season and retain his place.
Last Updated: 22/05/11 2:26pm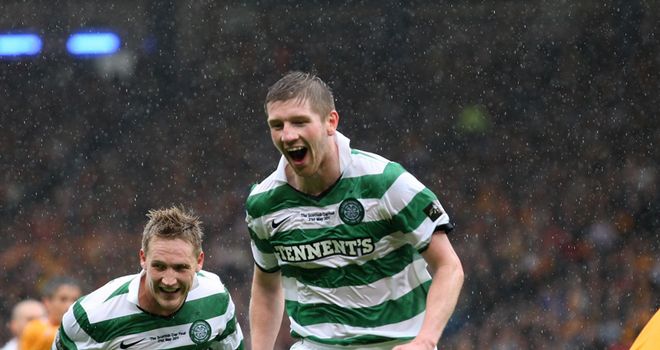 Celtic defender Mark Wilson is determined to build on his good end to the season and retain his place in the team.
The Hoops full-back played the full 90 minutes of Saturday's 3-0 win over Motherwell in the Scottish Cup final, making a valuable contribution to the cause.
Wilson has not been a regular at Celtic Park since joining from Dundee United in 2006 due to injuries and being out of favour, but things have appeared to change under Neil Lennon.
Wilson has managed to earn his first full cap for Scotland and scored his first goal for the club since the turn of the year.
However, he admits that he will have to maintain his standards over the summer to make sure of a starting place.
"I am happy," Wilson said.
"I have been injury-free most of the season and I am glad that the manager stuck with me.
"He has another two top-class right-backs in Andreas Hinkel and Cha Du-ri and he stuck with me, so I'm happy with that.
"But there is going to be some competition next season.
"I don't know what is happening with Andreas in the summer but Cha is there and there is Adam Matthews coming in (from Cardiff) as well so there could be four right-backs going for the one position.
"I am a believer that everyone starts with a clean slate at the beginning of the season.
"I thought that way when I was out of the team in the last few seasons.
"I saw it as an opportunity to get back into the team and that's the way those boys are going to be looking at it, to get me out of the team.
"So it's important that I start the season well and hopefully keep my place."
Important win
Wilson was happy to see his side finish the season with a trophy and felt it was the least they deserved for their exertions this season after losing out to Rangers for the SPL title and Co-operative Insurance Cup.
"There is always pressure on Celtic going into any cup final but especially yesterday because we did lose the two other trophies at the final hurdle," Wilson added.
"So it was important that we won.
"We deserved more than we got this season, although in saying that Rangers won the league fair and square.
"But the cup win was a good reward, and especially good for the manager to get the first trophy under his belt.
"I would much prefer to win the league but it's always good on the last day of the season to win the cup.
"Every player in Scotland wants to be there so to win it was fantastic and it has been a fantastic season."