McAuley hopes to set example
Gareth McAuley has urged his younger NI team-mates to follow his lead after earning a Premier League move.
Last Updated: 23/05/11 9:39pm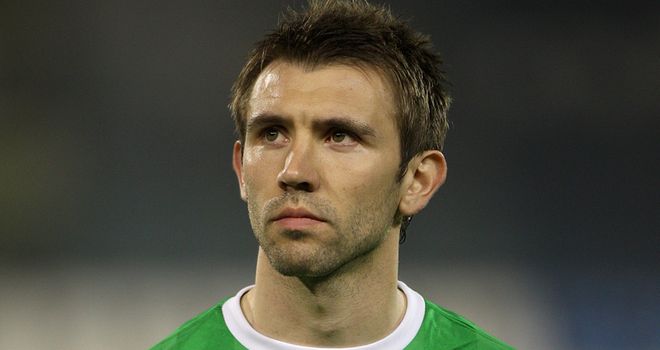 Gareth McAuley has called on his younger Northern Ireland team-mates to follow his lead after earning a dream move to the Premier League.
McAuley's switch from Ipswich to West Brom on a free transfer was sealed earlier on Monday, with the defender penning a three-year deal at The Hawthorns.
The 31-year-old was plying his trade in the Irish League with Coleraine just seven years ago, and believes his personal progress is proof that hard work and effort can pay off.
Dreams
Speaking ahead of Tuesday night's Carling Nations Cup clash with the Republic of Ireland, he said: "I've always believed. If you've got dreams and you keep pushing yourself forward, you can achieve things.
"That's the important thing. Some of the young boys in the Irish league who are in this squad should try to use that as an example.
"If they get their heads down and work hard, the proof is there that you do get the rewards."
He added: "I'm delighted to get it sorted out. It's been going on for a couple of weeks and that's it done. It's another step up, another progression in the journey of my career.
"It's a challenge to get into the team first and foremost. They have good players there but I back myself all the way, as I always have done.
"I've worked hard and sometimes you get the rewards. I've now got to get into the team and prove I can play there.
"Everyone has that dream to play in the Premier League, it's one of the best leagues in the world."
Easy option
McAuley claims staying at Ipswich would have meant taking the easy option as he now prepares for a higher level.
He said: "I think Ipswich have a good chance of promotion next season. They've got a good manager in and I think things will change there. They are moving in the right direction.
"The easy thing for me to do would have been to stay there. They offered me a very, very good deal for a Championship club.
"I could have stayed there, I was well liked. But I needed the challenge and I've certainly got that ahead."