Jagielka sets sights high
Phil Jagielka hopes Everton can improve on seventh next season but admits it will be difficult.
Last Updated: 24/05/11 9:46am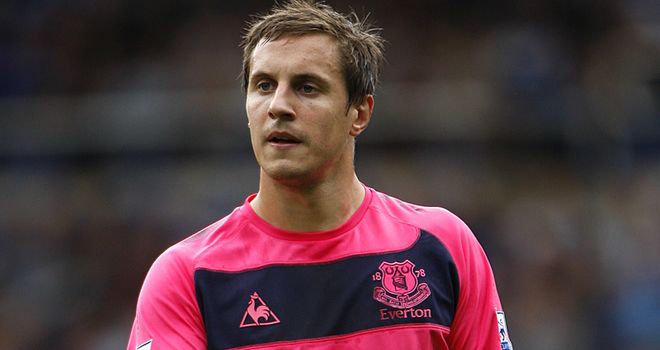 Phil Jagielka has admitted it will continue to be difficult to compete with the Premier League's big spenders next season but hopes Everton can improve on seventh.
Having finished the 2009/10 campaign strongly, the Toffees had been tipped to challenge for European qualification this term and perhaps even a top-four berth.
However, they made another poor start before finally finding form after the turn of the year and surging up the table.
Jagielka concedes that Everton will have to reassess their targets for the future, knowing they do not have the budget to rival other leading sides.
However, the defender insists that manager David Moyes will not let his players rest on their laurels and will always strive to do better.
"We've got to take a reality check," Jagielka said in the Liverpool Echo. "We'd love to finish fourth, third, second or first.
"But realistically, look at teams who can even spend £50m in transfers, and we're not even talking the money Man City spends.
"Liverpool sold Torres for £50m and Babel for £9m and replaced them with Suarez and Andy Carroll - it's spending power we know we haven't got.
"Chelsea have spent, Spurs have, Arsenal will probably spend again. Even Villa spent big on Darren Bent.
"Yes expectations were high in the summer because of how well we finished last season, and we have done okay. I don't think we've played particularly amazing but we've got results in the last 15 games.
Ambitions
"Maybe expectations elsewhere won't be as high this time around, but I'm sure the gaffer's ambitions will be higher. He won't want another poor start and he'll find out why.
"But hopefully when these games come around towards the end of next season they mean a lot more than trying to secure seventh."
Jagielka has been impressed by Jermaine Beckford, who scored a superb solo goal in Sunday's victory over Chelsea, but expects Moyes to strengthen his attacking options in the summer.
He said: "We can't rely on just Becks. Thankfully we had Tim (Cahill) for the first part of the season, people may forget but he was very important for the first half of the season and got nine goals in the first six months.
"Between the pair of them, Louis (Saha) got nine as well - so the three of them did well but I'm sure the gaffer will be looking to bring some more quality up there.
Fresh faces
"It won't be specifically to replace Jermaine, just to help him along. I'm sure if he played every game of the season injury free he would have got a few more, but as it was he did really well.
"We do need fresh faces come the summer, and there might be a few people who's contracts are up or might not be staying here but the gaffer knows what he's been doing.
"He's been doing it long enough now and the season has left on a positive note.
"Hopefully we can get some fresh faces, pretend it's January instead of August when the season begins and get a good start."