Scott vows Swans stay
Winger Scott Sinclair insists he is staying at Swansea even if the Welsh outfit do not get promoted.
Last Updated: 29/05/11 10:48am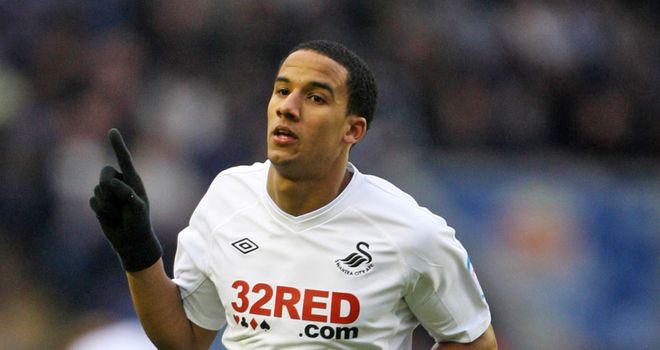 Winger Scott Sinclair insists he is staying at Swansea even if the Welsh outfit do not get promoted on Monday.
The Swans take on Reading in the Championship play-off final at Wembley with the holy grail of Premier League football - and an estimated £90 million windfall - up for grabs.
Former Chelsea player Sinclair has played his part in helping the Swans reach the showpiece after teaming up with his old Blues youth boss Brendan Rodgers at the Liberty Stadium.
The 22-year-old has vowed to stay on even if they fail to win, believing it is better to ply his trade at a club where he gets game time every week rather than being just a bit-part player.
He told the Daily Star Sunday: "Moving to another club in the Premier League - if we didn't go up - is not in my thinking at all.
"This is my first-ever season playing every week and I'm not going to want to go back and sit on the bench at a Premier League club every Saturday.
"Coming on for ten minutes at the end of a game is not my idea of cutting it and it's no good for my career.
"The only way I'll be in the Premier League next season is with Swansea - and I'm convinced we're going to get there on Monday."
Right decision
Sinclair insists he made the right decision in moving to the Swans last summer for an initial £500,000 fee, which could rise to £1.5m.
He added: "People will always say that I have a point to prove to Chelsea in that I should be in the Premier League.
"But this season I think I've already shown them they made a mistake letting me go at such a young age.
"I've scored 24 goals in all and that's quite good for a winger.
"The trouble at Chelsea is that to make the breakthrough, at the age of 19 and 20, you need to be an established player.
"The pressure there is to win trophies and that makes your development far harder."
Such has been his form that the winger has earned a place in the England Under-21s squad for this summer's European Championships and he can not wait to take part, despite it meaning he will have only six days off before pre-season training begins.
He said: "I am not worried about burn-out. It's an honour to go."