Edwin planning year out
Man Utd's Edwin van der Sar is planning on taking a year out of the game as he prepares to hang up his gloves.
Last Updated: 29/05/11 3:20pm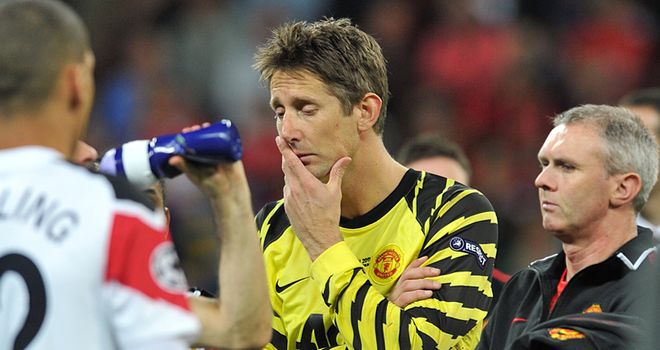 Retiring Manchester United keeper Edwin van der Sar is planning on taking a year out of the game as he prepares to hang up his gloves.
The veteran shot-stopper is calling time on his illustrious career this summer after making his name with Ajax during the 1990s.
The 40-year-old was unable to provide a fitting climax to his stellar career at Wembley as United lost 3-1 to Barcelona in the UEFA Champions League.
It left him with an overall tally of two wins and three defeats from his five finals and marked the end of two decades at the top of the game.
Van der Sar has started taking his coaching badges along with enrolling on a course in Holland, so he does have the option of completing them both in his adopted home and his real one.
In demand
Given his experience, Van der Sar is bound to be a man in demand.
However, his immediate reaction as he headed towards the rest of his life was to take a break.
"I have done some coaching badges in England and have put myself forward to do that in Holland as well but I am not sure if I am going to finish them," Van der Sar confirmed.
"Maybe it is too soon. I want to take a year out and do some nice things.
"I want to watch some games with friends in a normal situation on a Saturday, have a nice meal on a Saturday night, watch a game on Sunday, play golf and have some family time."
Discipline
All those things must look so appealing to someone who has spent so long coping with the discipline required to operate at such a high level.
In addition, his wife Annemarie's continuing recovery from a stroke has to be taken into account.
However, how long it will be before Van der Sar starts to get itchy feet for an involvement in the game he knows so well remains to be seen.
"It is not going to be easy," he said. "I never said that.
"I have some friends who retired five or six years ago, so I have exceeded my expectations by two or three seasons anyway. It is not a big problem."