Wenger - Nasri won't join Utd
Arsene Wenger insists Arsenal will not sell Samir Nasri to Man Utd as talks over a new deal continue.
Last Updated: 01/06/11 5:42pm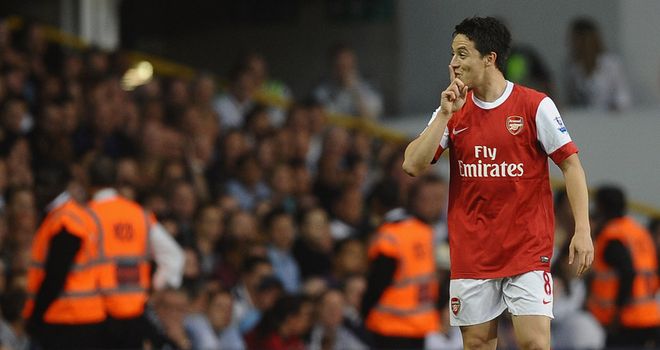 Arsene Wenger insists Arsenal will not sell Samir Nasri to Manchester United after confirming the club are still trying to extend his contract.
Nasri only has 12 months remaining on his current deal at Emirates Stadium and there have been suggestions the France international could leave this summer.
Arsenal's rivals United have been linked with a bid and Patrice Evra recently suggested his compatriot should make the move to Old Trafford.
Wenger acknowledged there is disparity in the negotiations with Nasri, but is adamant the 23-year-old will not be heading to the Premier League champions.
Disagreement
"One thing's for sure: we're not selling him to Manchester United," Wenger told the French radio station RTL.
"Are we still in discussions with Nasri? Yes, but we are still in disagreement over the financial contract on offer, which we haven't settled.
"We are trying to extend his deal."
The Arsenal boss also reiterated his determination to hang on to Cesc Fabregas and does not expect Barcelona to make a renewed attempt to sign his captain.
He added: "Barcelona were interested last year in Cesc but not this year. For me, he's the world's best midfielder.
"He's our captain. We've built the team around him. Of course we want to keep him."
Wenger is trying to improve his squad before next season and has been linked with the likes of Karim Benzema and Gervinho as he searches for a new striker.
"Everyone is looking to reinforce their attack as it's always important to improve in that area of the team," Wenger continued.
"We're also after an experienced defender, maybe one who is already used to life in the Premier League. That has been our weakness.
"But you should remember that we still had a better defence last season than a lot of other good teams, including Manchester City."