Abidal admits France joy
Eric Abidal has expressed his delight at returning to the France squad.
Last Updated: 01/06/11 6:20pm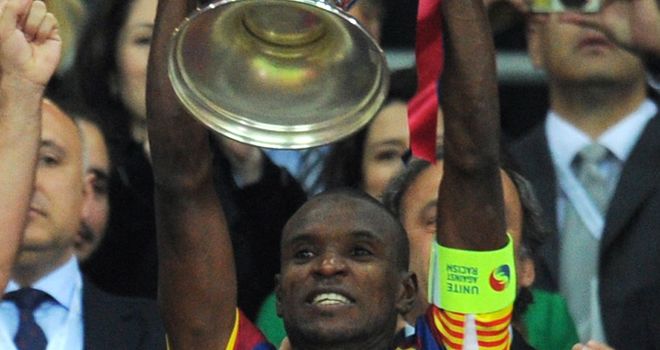 Barcelona defender Eric Abidal has expressed his delight at returning to the France squad less than three months after undergoing surgery on a liver tumour.
The 31-year-old was last week named in Laurent Blanc's squad for Les Bleus' Euro 2012 qualifier in Belarus on Friday and next week's friendly double-header against the tournament's co-hosts, Ukraine and Poland.
Abidal had an operation on March 17 and returned to action with Barca on May 8 before putting in an impressive performance during Barca's UEFA Champions League final over Manchester United on Saturday.
"Everyone was surprised by the speed of my return - including me," he told L'Equipe.
"But I am lucky to have a coach [Pep Guardiola] who trusts me. It is the fruit of all the work I've done since the operation.
"I cannot say I'm 100 per cent. I have not returned to my ideal weight, for example. I have three kilograms still to put on.
"But I was able to finish the season well. I do not really know if it is a mark of confidence because I am part of the squad but it makes me feel good. It's good for morale."
Pinnacle
Abidal's last appearance for France was in the 2-1 friendly win over England at Wembley in November, which was his 52nd international appearance.
"[Playing for France] is always the same," he said. "It remains the pinnacle from a football point of view, nothing has changed.
"This is an opportunity to play in major competitions every two or four years and win more trophies."
Barca captain Carles Puyol also gave Abidal the honour of lifting the Champions League trophy after their 3-1 win over United at Wembley, a gesture which touched the Frenchman.
"At that time, there are no words," Abidal added. "It seems that time stopped.
"It is an honour to have lifted the trophy - an image that will stay for life. That Puyol came to me and said I deserved it, it confirms that Barca is more than a club. What they did, it has never been seen."