Capello sets Bent challenge
Fabio Capello believes Darren Bent can establish himself as a key figure for England.
By Ben Collins
Last Updated: 03/06/11 3:22pm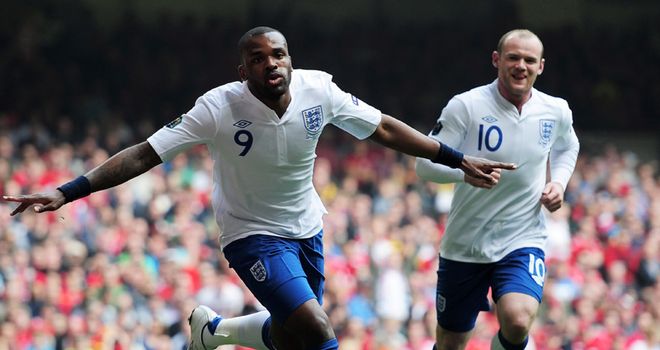 Fabio Capello believes Darren Bent can establish himself as a key figure for England.
It has been a gradual process for the Aston Villa striker to become a regular in the international squad having racked up just six caps over four years up to last summer.
Bent was overlooked for Capello's World Cup squad but the Italian coach believes the 27-year-old has improved considerably in the last 12 months.
The former Sunderland man was given another chance to impress in the Euro 2012 qualifier in Switzerland last September and broke his international duck before scoring in his last two England games against Denmark and Wales.
With Wayne Rooney (suspension) and Jermain Defoe (injury) both out of Saturday's return game against Switzerland, Bent is set to lead the line at Wembley.
Capello stressed that sometimes strikers do not reach their peak until their late 20s and he is now confident Bent can do the business at international level.
"I know him very well," he said.
Predator
"In the box, when he sees the ball, he scores goals. I hope on Saturday he will do the same.
"(In) my career as a manager, some players were not so good when they were 20, 21, 22, but after they improved.
"Sometimes it's important which team you play in, and the relationship with the manager, the private life. It's impossible to know the future.
"It's important for us that Bent has improved a lot and he is scoring a lot of goals."
Capello also defended the decision of some of his players to go on holiday between the end of the club season and the start of international commitments.
The England boss wants them to do just that again next summer after last year's unsuccessful World Cup campaign in South Africa.
"If we play the Euros I want to see the players for two weeks, 10 days," he said.
"They will go to holiday then, and after we will start preparations for the Euros.
"I learned a lot at the World Cup, I learned the players are rather tired at the end of the season.
"I think (being) on holiday is good, they recover their forces, their mind energy. It is really important."