Lafferty regrets Lennon tweet
Kyle Lafferty regrets his taunting of Neil Lennon and condemns the hate campaign against the Celtic boss.
By Debbie Kaplan
Last Updated: 04/06/11 12:40pm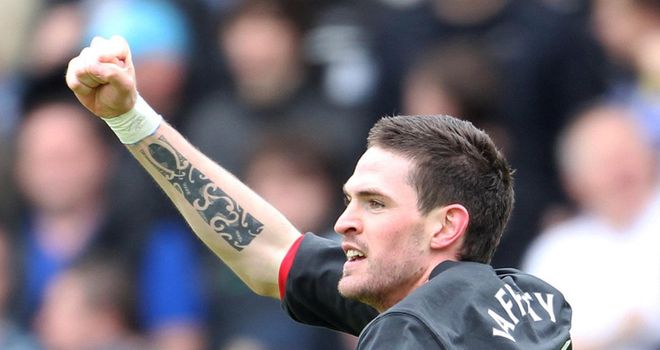 Kyle Lafferty regrets his Twitter taunting of Neil Lennon while condemning the "sickening" hate campaign against the Celtic boss.
The Rangers striker, following a derby win for Rangers at Parkhead in October, used a tweet to mock Lennon.
He tweeted "Sweet o very sweet. Hahaha lennon lennon. What's the score hahaha."
And in January this year, Lafferty clashed with the Hoops boss on the Ibrox touchline following a 2-0 SPL win for Celtic.
But despite Lennon giving Lafferty a verbal response to his gloating Twitter message, the 23-year-old admits the Celtic boss' retaliation was justified.
Lafferty told the Scottish Sun: "I wrote something on Twitter about Neil I probably should not have, I accept that. A lot of people saw it and the damage was done.
"So, I think he had a right to have a pop back at me. If it had been the other way around I would have done it."
Appalled
And Lafferty also admits that, despite the pair's turbulent relationship, he is appalled by the recent treatment of the 39-year-old - which has seen him become the target of death threats, postal bombs and subject to an attack by a fan at Tynecastle.
The Northern Ireland international said: "What has happened to Neil Lennon has been sickening.
"We have had our differences but I would not wish it on my worst enemy. I wouldn't have been able to put up with that. I'd have cracked and left.
"The attack on him at Tynecastle was frightening and he was lucky it wasn't far worse.
"His heart is in the right place. He's got family and I think everything that's happened is wrong.
"It should have been just about the football, but this season it has been about a lot more and we have all hated seeing it. I have never properly spoken to him. There has only been the incident at the start of the year."
And Lafferty, who helped Rangers to a third straight SPL title, insists he was pleased Lennon claimed a Scottish Cup final victory over Motherwell.
He added: "If Celtic had won the league, and I had seen Neil, I think I would have shook his hand. That is because of what he has been through.
"He won the Scottish Cup and deserved it. I was pleased he got something for all that he has been through."