Domingo to advise Blatter
Fifa president Sepp Blatter has confirmed Spanish opera singer Placido Domingo will advise football's world governing body on its problems.
Last Updated: 07/06/11 3:33pm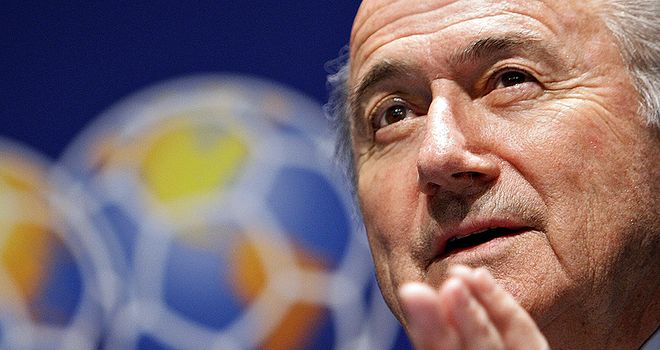 Under-fire Fifa president Sepp Blatter has confirmed that Spanish opera singer Placido Domingo is his somewhat bizarre choice to advise football's world governing body on its problems.
Domingo will join 88-year-old former US secretary of state Henry Kissinger and ex-Holland international Johann Cruyff as advisers.
The announcement comes as the latest confusing move from Fifa in a fortnight which has seen the body surrounded in allegations of corruption prior to Blatter's re-election as president for a fourth term.
Blatter told CNN: "These gentlemen are more or less advisers, they are not the experts, but advisers.
"They should be a kind of 'council of wisdom' which my executive committee would not like because they think they are the council of wisdom!
Inquiry
"I have also contacted the Spanish singer... Placido Domingo - he is happy, he is proud that he is part, and Kissinger also. People say he is an old man, but he is a wise man."
Meanwhile, Blatter has played down the likelihood of Fifa launching an inquiry into Qatar's 2022 World Cup bid, but insists he will not block the organisation's new watchdog body from investigating.
Blatter also said he has "received enough kicks" and now wants to have the chance to restore Fifa's credibility.
Asked if he would look again at Qatar hosting the 2022 World Cup, Blatter said: "No. I don't know why we should go in - then we shall go to all, then we shall start with Brazil and all before.
"I don't know why we should open something because somebody has said something towards Qatar.
Zero tolerance
"Let me work now on this new approach of the ethics committee, let me work with this committee of solutions and if this committee of solutions or the ethics committee have the impression that they should do something then let them take the decisions."
Fifa has two members, Jack Warner and Mohamed Bin Hammam, suspended on bribery charges pending an ethics committee hearing, but Blatter said he would not support a lifetime ban for people who offer bribes despite his new 'zero tolerance' approach.
He added: "No - to say if there is an offence against an ethic code, it is a life ban - everyone has the right to defend itself.
"Zero tolerance is not a killing instinct that we have to kill people. Zero tolerance means that if you commit something outside the play of field, you will have a punishment. But it can be a yellow card, it can be a red card, it can be a suspension for two games, three games [or] a lifetime."