Pearce expects duo to shine
Stuart Pearce is convinced Phil Jones and Jordan Henderson will see plenty of action at United and Liverpool.
Last Updated: 10/06/11 7:28am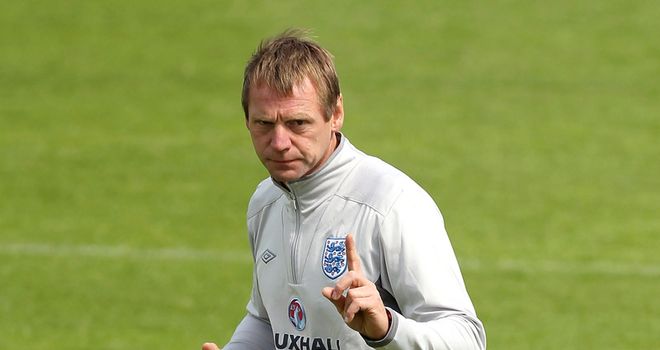 England Under-21 boss Stuart Pearce is convinced Phil Jones and Jordan Henderson will see plenty of action at Manchester United and Liverpool next season.
Henderson completed his big-money move to Anfield on Thursday, while Jones is expected to follow suit and wrap up his switch to Old Trafford while on international duty at this month's European Under-21 Championship in Denmark.
The pair, who look certain to form part of the spine of Pearce's side during the tournament, are also young enough to qualify for the next championship in two years' time, while they could even break into the senior squad before then.
Task
That could all depend on how often they play for their new clubs, with each facing a much harder task holding down spots at United and Liverpool than at Blackburn and Sunderland.
But Pearce pointed to the example of Jones' defensive partner Chris Smalling as someone who has proven it can be done following his own move from Fulham to Sir Alex Ferguson's side.
He said: "Chris Smalling's gone to a so-called bigger club last summer.
"But if you look at the appearances he's had, Alex isn't afraid to put the young players in and say, 'Go on then - let's see what you can do'.
"I went to a Champions League semi-final and watched Chris Smalling playing.
"If you had said to me last summer, 'Would he get the opportunity to play as many games as he has and as many high-profile matches?', I would've said, 'No chance'."
Former Blackburn manager Sam Allardyce expects Jones to form a golden defensive partnership with Smalling at United.
Allardyce, who is now at West Ham but handed Jones his senior debut last year, said: "Phil is obviously going to flourish now at Manchester United because he links up with Chris Smalling.
Talent
"Again, he was bought by Manchester United from Fulham after only playing a handful of games.
"That was around £10million and this is £15million and rising - it shows that young talent today is very expensive."
Jones has made a big impression at Ewood Park in a short space of time, and recovered well from a three-month knee injury lay-off to finish the 2010-11 season strongly.
Allardyce added: "I think eventually, with a little more experience, which is going to gain more quickly at Manchester United, he will ultimately become an England defender."