Jordan gets Gerrard backing
Steven Gerrard is confident Liverpool new boy Jordan Henderson can follow in his footsteps at Anfield.
Last Updated: 10/06/11 8:57am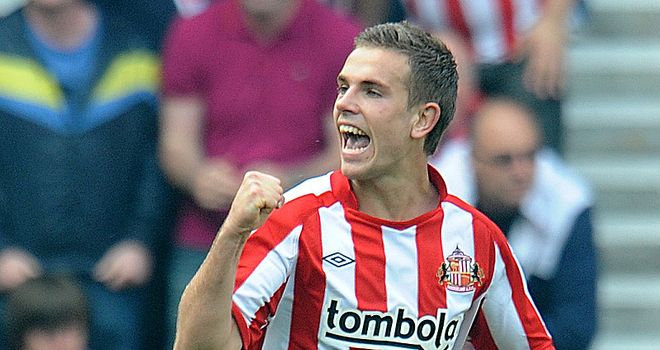 Steven Gerrard is confident Liverpool new boy Jordan Henderson can follow in his footsteps at Anfield.
Youngster Henderson, an England Under 21 international and capped once for the senior side, completed his move from Sunderland to Merseyside on Thursday after impressing for the Black Cats this season.
And captain Gerrard believes the 20-year-old midfielder could turn out to be his own long-term replacement at Liverpool.
Positive
"It's a really positive signing," Gerrard told the Daily Express. "Let's hope he is the next Steven Gerrard.
"Liverpool needs a new Steven Gerrard and it will need a new Jamie Carragher. That's what good football clubs do - they replace their best players.
"I saw Jordan at first hand for two or three days with England and he is a good player with energy."
As well as Henderson, Gerrard is looking forward to linking up with star striker Luis Suarez next season, who arrived from Ajax in January.
Gerrard played just three games alongside Suarez before seeing his season cut short in March with a groin injury, but the skipper rates him as an exciting prospect.
"You know within two or three days of training with someone what they are going to be like - Luis has got it," he said.
"He's a winner and a fighter. Everyone is talking about his skills and rightly so, but I like the other side of him, too.
"I remember in the Fulham game when we won 5-2, it was the 93rd minute and he wasn't happy that we weren't given a handball. That sums him up."
Impressive
Gerrard has also only played six games under Liverpool boss Kenny Dalglish, who succeeded Roy Hodgson in January and has enjoyed an impressive start to his second stint in charge at Anfield.
And the skipper is looking forward to pushing on with the Reds next term, adding: "I am excited about playing under Kenny Dalglish, just like the team did at the end of the season, which was going forward.
"We were playing with bottle and character and going all out to beat teams. And that always suits my style of playing."