Lukaku in no rush
Romelu Lukaku has insisted he is not about to finalise a move to Chelsea.
Last Updated: 10/06/11 3:47pm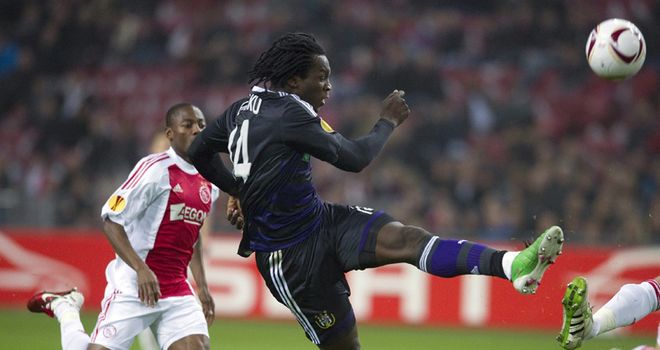 Romelu Lukaku has insisted he is not about to finalise a move to Chelsea.
The Belgian starlet's future looked set to be cleared up early in the summer, with the Blues seemingly winning the race to land his coveted signature.
There were also reports of a meeting in Monte Carlo this weekend between Chelsea and Anderlecht.
Whilst Chelsea remain firm favourites to land him, Lukaku insists he is concentrating on completing his college studies, before going on holiday and then returning to Anderlecht for pre-season training.
In a statement on his Facebook and Twitter pages, Lukaku said: "Hello all, I read a lot in the paper about me these days.
"Some journalists try to sell information they don't always know about. Please know that my current and only focus is ... passing my exams.
"After that I'll have some holiday and will start the pre-season with RSCA. I'll keep you all posted...thank you for your understanding."
Lukaku's agent also responded by saying any deal would not be done quickly and that the player would be returning for pre-season later this month.
"There has not yet been a meeting between Chelsea and Anderlecht, nothing can be concluded," Christophe Henrotay told Het Belang van Limburg.
He also denied reports that the Lukaku deal was dependent on Anderlecht getting Genk starlet Kevin de Bruyne as part of the deal.
"As for the scenario with Kevin de Bruyne it's rubbish, never has there been a question of incorporating him in the Lukaku deal."
Big fee
Henrotay admits the prospective size of the fee for Lukaku means nothing will be done quickly.
"Anderlecht want a lot of money for Lukaku, he costs more than two million you know - it will take more time.
"With the current state of things, Romelu will resume training on June 24 with Anderlecht."
Henrotay insists Chelsea have rivals for his client's signature, saying: "First they [Chelsea need a coach], and other clubs are making enquiries."
Anderlecht chief Herman van Holsbeeck, who is rumoured to have been in Monaco for the talks, says he fully expects a deal to happen.
"Sure he will leave," he told the Gazet van Antwerpen
"And his departure is crucial to our transfers.
"I do not know if it will be Chelsea, there are many big clubs interested and we are negotiating.
"One thing is certain, he will not spend another year with Anderlecht."
Meanwhile, Anderlecht's general manager Dirk Degraen says the club cannot afford to buy De Bruyne.
"In sporting terms we have nearly as much to offer, but even if a Belgian team offers a crazy amount of money, that does not compare to other countries," said Degraen.