Bertrand admits Cole battle
Ryan Bertrand admits he has been helped and hindered by Ashley Cole during his time at Chelsea.
Last Updated: 13/06/11 9:37am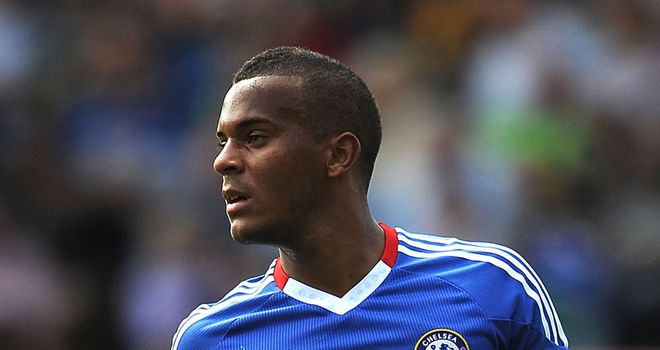 England Under-21 defender Ryan Bertrand admits he has been helped and hindered by Ashley Cole during his time at Chelsea.
Bertrand has found himself behind Cole in the left-back pecking order at Stamford Bridge from the moment he was first considered for the first team, something that looks unlikely to change for the foreseeable future.
But the 21-year-old concedes knows there is no better man than Cole from whom to learn the art of full-back play, with the 30-year-old considered by many to be the best left-sided defender in the world.
"It's a massive positive having him at Chelsea - and a massive hindrance too I suppose!" said Bertrand, who joined the Blues aged 15.
"He's definitely right up there - his attitude, the way he goes about training. He's won the most FA Cups, and a lot of other silverware, and to still have that attitude at his age is fantastic."
"He's a fantastic role model, despite all the stuff that gets written about him. He's a brilliant man and a brilliant player to have around to help you with your game.
"If I ever have anything to ask him about a certain situation on the pitch, he's more than happy to come back and talk."
Different paths
It is not only Cole that Bertrand has to get past at club and international level as Patrick van Aanholt is a young rival at Chelsea, while Leighton Baines and Kieran Gibbs are vying to succeed Cole at senior international level.
Gibbs also was set to compete with Bertrand at this summer's European Under-21 Championship before pulling out of the squad through injury.
Bertrand admitted he sometimes wished he was a right-back as he prepares for another season where a loan move could be his only hope of regular first-team action.
"Every player has different paths and mine so far has been out on loan," added Bertrand, who has seen under-21 team-mates Scott Sinclair and Michael Mancienne give up hope of making the grade at Stamford Bridge this season.
"You've seen the benefit for Scott. He's gone up this year with Swansea and it's been fantastic for him."
But asked how long he was prepared to wait for his own chance at Chelsea, Bertrand said: "I'm just concentrating on the near future."