Skacel hopeful of new deal
Rudi Skacel is hopeful he will agree fresh terms with Hearts owner Vladimir Romanov.
Last Updated: 12/06/11 3:42pm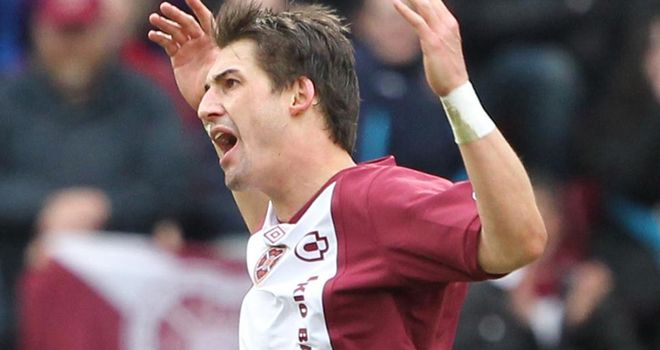 Rudi Skacel is hopeful he will agree fresh terms with Hearts owner Vladimir Romanov.
The 31-year-old's current deal is due to expire in July but he is looking to remain with the capital outfit.
Skacel's agent previously stated that the club need to pay him 'top dollar' but he has now stated he is negotiating the terms himself.
"I'm under contract with Hearts and I last talked with Mr Romanov two months ago," the Czech international said.
"I'm on holiday now but both sides will discuss the future as soon as possible. We report back in 10 days and I hope Mr Romanov calls me before then. If nothing happens, I can also call him.
"My agent was speaking in the media recently but I don't know why because he doesn't know what's going on with this deal.
Talks
"It's between Mr Romanov and me and we can negotiate a deal. He is my boss.
"I believe he trusts me and that's the most important thing and why we can discuss this contract. I'd like to stay at Hearts because we didn't have a bad season last time, although we encountered some difficulties in the end.
"Overall I was satisfied and if everything goes well I'd like to stay at Hearts for at least the next two seasons.
"We will definitely be stronger next time, but for the deal to be completed there must be satisfaction on both sides.
"It's important it is all resolved as quickly as possible. If I cannot make a deal I must move on and find another job.
"I feel good within myself and confident I can help the team and our great supporters to even greater success.
"At the moment I'm on holiday in Prague and trying to rest my body and switch off my mind, but I hope the call comes soon.
"We must talk so we can see what Hearts would like to do."