Scholes - Time was right
Paul Scholes says Alex Ferguson wanted him to play on for another season but he knew it was time to retire.
Last Updated: 13/06/11 3:50pm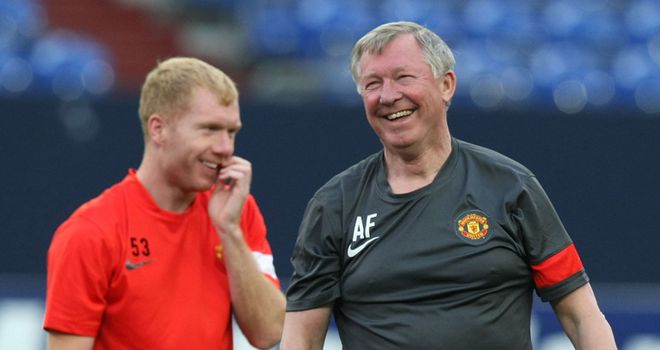 Manchester United legend Paul Scholes says Sir Alex Ferguson wanted him to play on for another season - but he knew it was the right time to retire.
The England ace hung up his playing boots last month having helped the Red Devils to a record 19th top flight title.
He has revealed boss Ferguson thought he could have played on next term but he knew his body was telling him to stop.
"I was struggling a little bit in my legs even with training and playing games, they didn't feel great and I just felt the time was right," Scholes told Sky Sports News.
When asked if Ferguson tried to change his mind, he replied: "Not really no - he did say that he felt I had 10, 15 maybe 20 games in me next season and he'd like me to stay.
"But I just told him I wasn't feeling great and I'll think about it again and I'll get back to him towards the end of the season which I did do."
He added: "I know realistically that I wouldn't be playing 40 to 50 games anyway at this stage of my career.
"Like I say, I just felt the time was right. I'm someone who likes to think that they can contribute every week and I think as a midfield player for this club you need to be doing everything - you need to be scoring goals, you need to be making goals and you need to be giving everything in defence as well.
"So I just felt it was the right time and I wasn't contributing as much as I think a midfield player for this club should be."
Not dirty
Scholes, who will now pursue a coaching career at Old Trafford, denied he was a dirty player.
Although being overall hugely complimentary, Arsenal manager Arsene Wenger claimed Scholes had a "dark side".
And following the final red card of his career, for a thigh-high challenge on Pablo Zabaleta in United's FA Cup semi-final defeat to Manchester City at Wembley in April, even Ferguson admitted "the red mist sometimes descends" on the 36-year-old.
But Scholes, whose 90 yellow cards make him the third most booked player in Premier League history, feels he was simply unlucky and he never intentionally went out to hurt an opponent.
Scholes said: "I have just been unlucky.
"I never had red mist against anybody.
"The one against Zabaleta, I didn't do on purpose. It was just bad timing.
"The ball was up there and the way your leg goes it has to come down and unfortunately it came down on his leg.
"I would never intentionally try to hurt somebody. Nobody has ever had to go off following one of my tackles and nobody has broken their leg.
"I have never been nasty."
Testimonial
Scholes' testimonial match will be against New York Cosmos at Old Trafford on 5th August, which will mark the return of Eric Cantona, now director of football at one of the most famous names in US soccer, who hope to gain an MLS franchise in 2013.
"The plan was for Eric to come back and overshadow me," laughed Scholes.
"Hopefully everyone will be concentrating on him and I can just mosey off somewhere and be out of the way.
"Seriously, the Cosmos are just getting back together again and it seemed a sensible thing to do.
"He was a big influence on a lot of the United lads' careers.
"We grew up watching him and then trained with him. He led by example and it will be great to have him back."
* Tickets for Paul Scholes Testimonial from £20 (£15 for over 65s and £5 for under 16s) are available from www.manutd.com or 0161 868 8000.