De Gea inspired by Van der Sar
Man Utd target David de Gea has revealed he wants to follow in the footsteps of Edwin van der Sar.
Last Updated: 15/06/11 2:50pm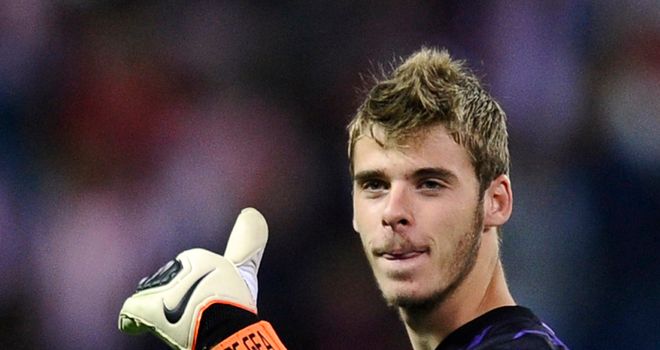 Manchester United target David de Gea has revealed he wants to follow in the footsteps of veteran goalkeeper Edwin van der Sar.
Sir Alex Ferguson is lining up Spanish shot-stopper De Gea to replace Van der Sar at Old Trafford after he retired at the end of last season.
And while the Atletico Madrid youngster has refused to talk about his future until after the European Under-21 Championship in Demark, he admits he is flattered to be tipped as the Dutchman's successor.
He told Gazzetta dello Sport: "The fact they are thinking of me as a replacement for such a great goalkeeper is something I like.
"But it's necessary to keep fighting and working hard because we are only at the beginning and to reach that level there is a lot more to be done.
"Let's hope (I can play like Van der Sar at his age). At the moment it's difficult to look so far ahead, but I would like to (be able to).
"I need strength, luck and to take good care of my body because football consumes you. But let's hope so."
Fee
Reports in Spain have claimed that Premier League champions United have agreed to pay Atletico a fee of €21million (£18.8m) to secure De Gea's services.
When questioned about potentially becoming one of the most expensive goalkeepers in history, De Gea replied: "It doesn't interest me, they are numbers, clauses, prices.
"The value that really counts is that which is shown on the pitch, not what they say your value is.
"Money is secondary, being so expensive is not something I like especially; I'm interested in what people think of me on the playing field."
Despite the fact he could be plying his trade at Old Trafford next season, De Gea admits he was rooting for champions Barcelona to win the UEFA Champions League final against United at Wembley last month.
He said: "(I supported) Barcelona (in the final), but without any special euphoria."