Barca - Cesc worth less
Barcelona president Sandro Rosell believes Cesc Fabregas is worth less than he was at this time last summer.
By Chris Burton
Last Updated: 16/06/11 4:40pm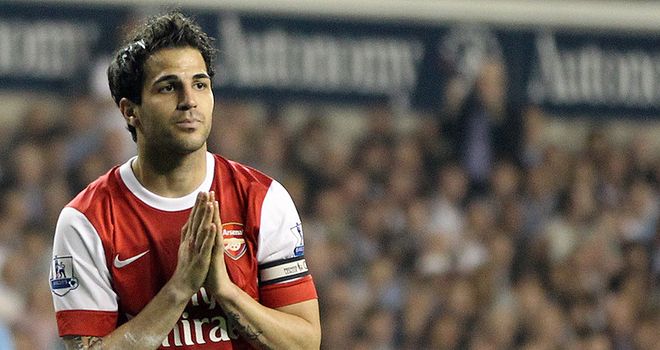 Barcelona president Sandro Rosell believes Cesc Fabregas is worth less than he was at this time last summer.
The Arsenal skipper has been a long-standing target for the Catalan giants, with each passing transfer window seeing them linked with a fresh approach.
It remains to be seen whether they will try their luck again this year, having failed in their efforts to lure Fabregas back to his roots 12 months ago.
Barca were prepared to pay €40million (£35m) for the midfielder in 2010, after seeing him help Spain to World Cup glory.
They are, however, now of the opinion that his value has diminished and claim they will not be making a similar offer this time around - if they bid at all.
Wear and tear
Rosell said: "If last summer we offered €40m for Cesc, and since there has been wear and tear, now he's worth less."
Fabregas has made no secret of his desire to turn out for Barca at some stage of his career, but has been reluctant to force through a move.
He announced on Wednesday that he would leave any decision regarding his future in the hands of his current employers, but added that 'Barca is the best team in the world and going there guarantees titles'.
Rosell claims Barca have yet to decide who they will move for this summer, with Udinese's Alexis Sanchez and Villarreal's Giuseppe Rossi also reported to be on their wish list.
He said: "I do not know if we are interested in Cesc, or Alexis and Rossi. I have no idea. There is always much talk."
Deadline
Whatever Barca decide, they are reluctant to put any timescale on their efforts to land their top targets.
Regarding a possible approach for Fabregas, Rosell added: "What is the deadline to sign him? We will have to wait and see. First you need to know what the salary will be and what the conditions (length of contract) will be."
Rosell has also taken a sly dig at arch-rivals Real Madrid by claiming that Fabregas would be reluctant to move to Santiago Bernabeu despite reported interest from Jose Mourinho's side.
He said: "Cesc is Barca through and through and if I were the president of another club I would not sign a player who holds the colours of another club so dear.
"It would not be wise to sign a player who is associated so strongly with a rival."