Neymar admits Euro vision
Brazilian hotshot Neymar has admitted he dreams of playing in the UEFA Champions League.
Last Updated: 20/06/11 12:44pm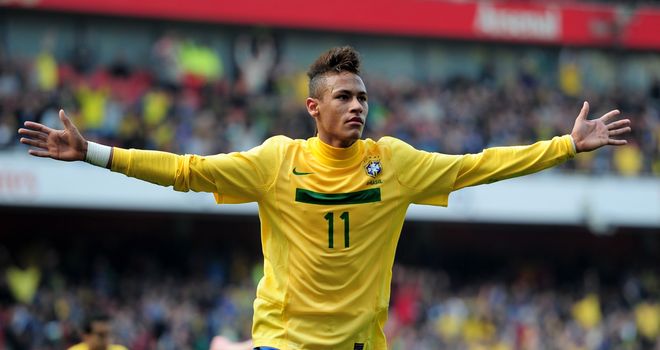 Brazilian hotshot Neymar has admitted he dreams of playing in the UEFA Champions League.
The 19-year-old striker has been heavily linked with Chelsea and Real Madrid after bursting onto the scene with Santos, with whom he is hoping to win the Copa Libertadores this week.
The Brazilian outfit host the second leg on Wednesday and are favourites having secured a 0-0 draw away to Penarol in the first leg.
Santos have not claimed the continental club crown since 1963 and, although Neymar insists he is not yet looking to leave, he is eager to one day play in Europe's equivalent competition.
"At the moment my thoughts are only on winning the Copa Libertadores," he told AS.
Happiness
"My first thought is to stay here anyway because happiness is everything - for the club, for my family, for the fans - the most important thing is to be happy."
But asked about playing in the Champions League, he replied: "Of course it is (a dream), just like it is for all the players in the world.
"To play in that competition is a privilege and I hope to do so one day. I want to play in World Cups and play in the best leagues."
Neymar came through the youth system at Santos idolising Robinho, who helped the club reach the 2003 Copa Libertadores final before moving to Real Madrid in 2005.
Spanish spell
The 27-year-old, who is now an international team-mate of Neymar, then had a spell with Manchester City before joining AC Milan last summer but speaks well of his three years in Spain.
"He said very good things of his time in Europe, of playing in that country," Neymar said.
"But I have a contract with Santos and I'm very happy here.
"I believe my future belongs to God. (A move to Europe) could be tomorrow or in two or five years' time - I don't know.
"I would have to think about it with my father, with my mother - with everyone."