Millen set for Maynard talks
Keith Millen is set to hold talks with Leicester target Nicky Maynard over the striker's future.
Last Updated: 21/06/11 9:34am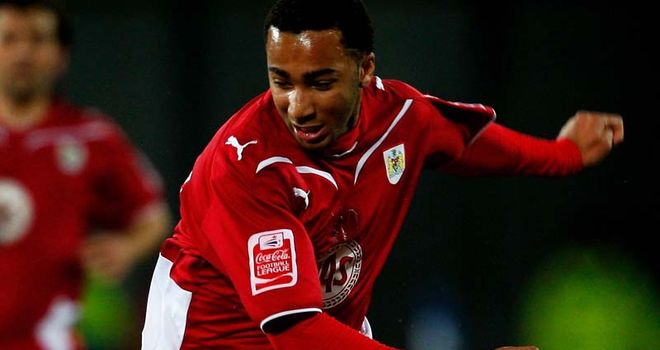 Bristol City boss Keith Millen is set to hold talks with Nicky Maynard in a bid to convince the Leicester target to commit his long-term future to the club.
City have turned down a bid from Leicester for the 24-year-old striker, which was believed to be between £2.5million and £3m.
Chairman Colin Sexstone revealed two other Championship clubs have enquired about Maynard, who has a year left on his contract, with Nottingham Forest, Southampton and West Ham United understood to be interested.
But the Robins have offered the former Crewe trainee an extension and are hopeful Millen can persuade him to sign a new deal.
"We don't want to sell Nicky - we want to keep him," Sexstone told the Bristol Evening Post.
Holiday
"Nicky is still away on holiday, but when they report back next week, the manager is going to chat to him.
"He has always indicated to us that he wants to stay, but if he indicates that he doesn't want to stay, then that puts a different complexion on it.
"But we don't want to sell him - and we certainly don't want to sell him to a Championship club."
However, if Maynard indicates he does not want to sign a new deal then the club will be keen to get back the £2.25m they paid Crewe to sign him rather than let him leave on a free transfer when his current contract expires.
And with at least three clubs having already expressed an interest, that could spark a summer auction for Maynard.
"Until Nicky signs a contract here - or doesn't - the speculation and interest from other clubs will continue, because he is a good player," Sexstone added.
"I don't imagine this will be the last inquiry we have for him - in fact, we have had two more clubs express their interest. We have had a direct offer from one club and informal inquiries from two other Championship clubs.
"Those clubs haven't made us an offer, but there was one phone call and one email asking would we be interested in letting him go and, if so, how much would we want?
Suitors circling
"The answer to both was 'no' - but it means people are circling and I don't expect this will be the end of it."
Millen's squad reports back for pre-season training next Friday and the City boss will sit down with Maynard, who has scored 37 goals in 85 league starts since arriving at Ashton Gate in July 2008.
"Keith will talk with Nicky, as he will with all the players, next Friday," said Sexstone.
"Nicky has indicated to us he wants to stay at Bristol City and he is happy here - and we all want him to confirm that that remains the case."