Five clubs meet Neymar price
Santos have confirmed that five clubs have met Neymar's release clause of €45million (£40.3million).
Last Updated: 28/06/11 3:50pm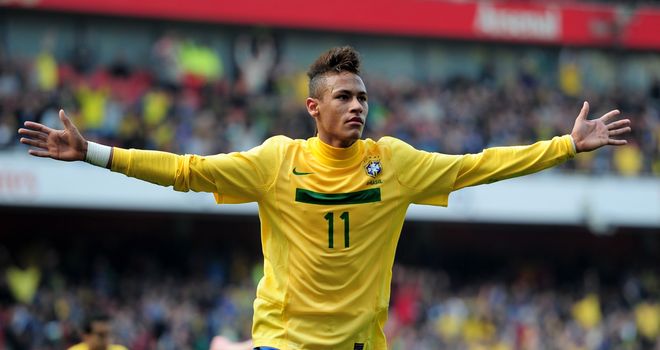 Santos have confirmed that five clubs have met Neymar's release clause of €45million (£40.3million) and they have been given permission to talk with the Brazilian sensation.
The clubs are understood to be Real Madrid, Barcelona, Chelsea, Manchester City and Russian side Anzhi Makhachkala.
It was previously believed that Real and Chelsea, who have been tracking Neymar for years, were leading the chase with the Spaniards in pole position.
But now it has emerged that they are not alone in the race for his signature, with Barca and City also showing their hand.
The outsiders of the five are Anzhi Makhachkala - although they have plenty of finances and they would hope their current Brazilian contingent, which includes Roberto Carlos, could help push a deal through.
Now the clubs in question are set for talks, according to Santos president Luis Alvaro de Oliveira Ribeiro.
Release
"We don't want to sell the player, but of course there is a release clause in his contract that can be paid and five European clubs have offered to match the clause," ESPN Brasil.
"I cannot name them because there is an agreement between Santos and the clubs, but they are the most important European clubs.
"They have asked to speak to the player and obviously we've allowed them to.
"The clubs have behaved ethically. They sought out Santos first and were willing to pay the clause. With this ethical approach, they can talk to anyone - with Neymar's father, with [agent] Wagner Ribeiro, and with the representatives of Neymar."
Ribeiro also took time to have a dig at Chelsea over their previous attempt to land the 19-year-old.
"Last year, Chelsea's attitude was different. Their first action was to seek out the player's representatives," he stated.
He also remains confident that, after helping Santos lift the Copa Libertadores earlier this month, he could stay put and reject the move to Europe.
"These clubs can come along and make their offerings, but if he wants to stay at Santos he can say no and continue at Santos," he concluded.