Barca talks continue for Sanchez
Gino Pozzo has confirmed that negotiations are ongoing with Barcelona regarding Udinese's Alexis Sanchez.
By Simone Bargellini
Last Updated: 29/06/11 3:32pm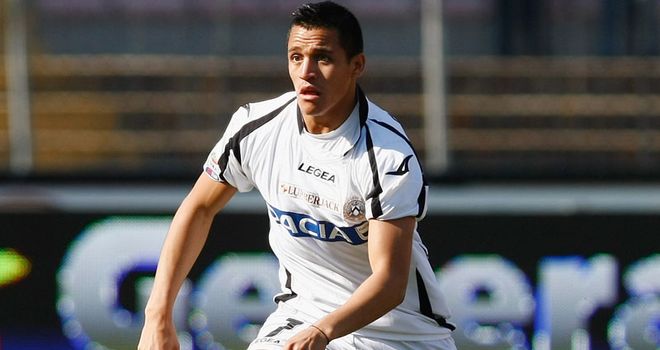 Gino Pozzo, the son of Udinese owner Giampaolo Pozzo, has confirmed that negotiations are ongoing with Barcelona regarding the £44million-valued Alexis Sanchez.
It emerged earlier on Tuesday that Manchester City have apparently pulled out of the race for the Chile star, who has also been linked with their derby rivals, Manchester United.
Despite positive talks with the player, Roberto Mancini implied that Sanchez is not worth more than the £30m bid City are reported to have submitted and that is why he has pulled out of the race.
But Udinese say that the 22-year-old has only ever wanted to join Barcelona and talks are still taking place with a view to the winger joining the European champions.
Pozzo told gazzetta.it regarding Sanchez: "Negotiations continue with Barcelona. We are waiting for the evolution, even if it's quite a complex deal.
Option
"We continue to work only on (one) table because with Manchester City we never opened the deal; the guy just wants Barcelona."
There is still the possibility that Sanchez will stay at Udinese and Pozzo has not ruled out that scenario.
"The option that Sanchez remains in Udinese is always valid and if the boy decides to stay we would be very happy," he said.
Reports have suggested that Barcelona are attempting to agree a deal for Sanchez which would involve Jeffren joining Udinese.
The Spain Under 21 international is understood to be unhappy at the prospect, but Pozzo said: "It's not true that he refused to come to Udinese, we have not yet talked to him."