Ferguson slams Baldock claim
Darren Ferguson has hit back at Sam Baldock after the striker claimed he snubbed a move to Peterborough.
Last Updated: 30/06/11 4:14pm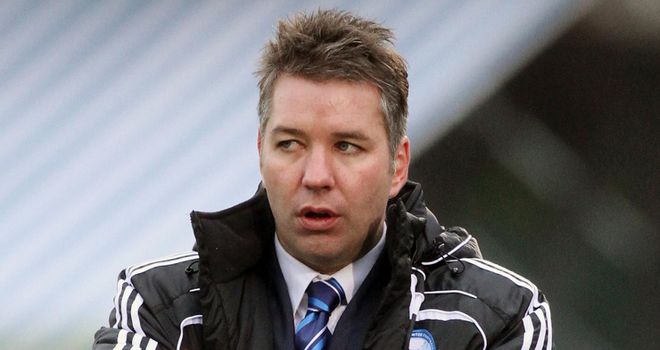 Darren Ferguson has hit back at MK Dons and Sam Baldock after the striker claimed he snubbed a move to Peterborough because the prospect 'didn't excite him'.
The 22-year-old's proposed transfer to Championship new-boys Posh fell through on Wednesday evening after he visited London Road.
Baldock claims he made the decision to turn down the move after the club failed to impress him.
Not right
He told the Dons' official website: "As soon as I got there it confirmed my suspicions that it wasn't right for me, it wasn't the right time for me to be going to that club and it didn't excite me.
"The best piece of advice I have been given is to move somewhere on a four-year deal it has to excite you and it just didn't do that for me.
"I have always liked Darren Ferguson, I had a good chat with him and I have a lot of time for him, but it was the club that I wasn't attracted to."
However, Peterborough manager Ferguson has rejected Baldock's comments, insisting it was the club that pulled out of the deal, not the player.
"In my opinion, Milton Keynes Dons Football Club are out of order by allowing their player to talk about our football club in the manner that he did," Ferguson told Peterborough's official website.
"Unfortunately because of the quotes attributed to Sam Baldock, I feel I must defend our football club.
"I have always had a lot of respect for their chairman, but I think when clubs are allowing their player to speak about our club like that, I have no choice but to respond.
"The meeting with Sam took place, he came and met me and he was very unenthusiastic, his body language was very poor and I knew straight away that I didn't want to sign him for this football club.
Hungry
"I only want young, hungry players that want to get success, that is how we have achieved three promotions in the last four years.
"Sam said in his quotes that he knew straight away that we were not the club for him. He knows our club inside out, he has played us over the years many times and was at London Road as recently as May.
"Meetings like the one I had with Sam on Wednesday can be turned into a positive because it makes you realise just how lucky you are to have worked with players like Craig Mackail-Smith and George Boyd amongst others."