Pardew faces fight to keep stars
Alan Pardew believes Newcastle will need some success to keep his side together.
Last Updated: 04/07/11 11:24pm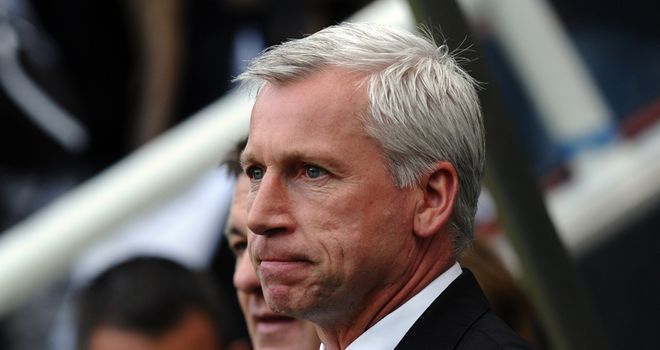 Alan Pardew believes Newcastle will need some success to keep his side together.
The Magpies boss has managed to convince summer signings Yohan Cabaye, Demba Ba and Sylvain Marveaux their immediate future lies at St James' Park.
He also has a battle on his hands to keep hold of top players such as Jose Enrique, Joey Barton and Cheick Tiote.
And although Pardew knows the club is not in a position to let money talk, he is confident the Magpies have enough quality and enough passion to persuade players they can fulfill their dreams on Tyneside.
"As it stands financially at the moment, we can't compete with those top teams in terms of trading players," he said.
Desire
"But of course we can compete on the football pitch, so what we have tried to do is bring in players that we feel have an improvement in them and a desire to play for Newcastle, and that's why we targeted the players that we have.
"Now the most important thing to keep those players is to put success in front of them.
"When you are building a new side, it needs to have progression, and that's something we are going to need this season, we are going to need to see a progression in our form, in our consistency and get as close as we can to those top teams.
"If we see that, I think we can keep them another year, and then when we go into that second or third year, then you really, really need to be very, very close because then they are going to start looking, as Jose is now, for those trophies, and I think we can do that.
"The likes of Tiote, Cabaye and people like that, we are going to have to have success on the pitch to keep them, 100%."
Enrique interest
Enrique has yet to respond to the offer of a new contract but Pardew is hopeful the 25-year-old Spaniard stays.
"No-one is more keen for him to stay than myself," he added. "He was a terrific player for us last year and he has been terrific for the club.
"We are trying to persuade him to stay, but with a year running on his contract and his desire to play Champions League football at his age, it's going to be difficult to keep him.
"It's one of those situations where we just have to keep watching and hoping that it falls our way.
"It would be foolish for us not to have a back-up plan - which we have - that will kick into operation if Jose does leave."
Barton has repeatedly signalled his intention to see out the final year of his contract after being told he will not be offered a new one, but Pardew is also keeping his fingers crossed that a solution can be found.
"A year is a long time in football," he said. "Speaking to Joey over the summer, I think me and him have got a good relationship and if I can keep him where he was last year for another year, at the end of the season, who's to say we can't agree a contract?
"My situation with Joey is to try to get the best out of him, and what Joey wants is success. Joey needs to see that success on the pitch and if we can give that to him, I think he could stay."