Neymar intends to stay
Neymar has reiterated he intends to stay at Santos next season, despite growing interest from Barca and Real.
Last Updated: 06/07/11 9:44pm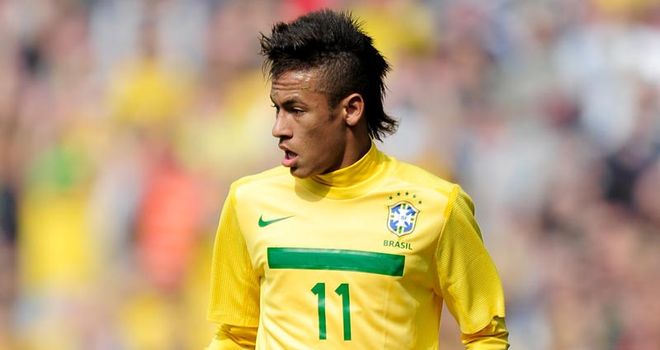 Brazilian ace Neymar has reiterated he intends to stay at Santos next season, despite growing interest from Barcelona and Real Madrid.
The 19-year-old is one of the world's most sought-after players, with the Spanish rivals just two of the numerous clubs clamouring for his signature.
However, Brazilian outfit Santos have always maintained their desire to keep the striker, while there is believed to be a €45million buyout clause in his contract, which is set to run until 2015.
Stay
Neymar has previously stressed his intention to honour his Santos deal, and the hitman has underlined that stance, announcing he "intends to continue at Santos".
The teenager, who is currently representing Brazil at the Copa America, added: "I know nothing of what happens outside this hotel, nor have I talked with my agent or my father, who are doing the negotiating."
Neymar is reportedly keen to take on European champions Barcelona, and his hero Lionel Messi, in the World Cup Club in December, giving him another reason to stay at Santos.
Chelsea and Manchester United have been linked with the teenager but his leading agent, Wagner Ribeiro, says it is Barcelona and Real Madrid that have shown a firm interest.
The agent has confirmed that Barca and Real have both made formal proposals for the player and are willing to meet Santos' asking price.
However, Ribeiro claims Real want Neymar immediately after the Copa America, whereas Barca are willing to wait another year and sign him for the 2012-13 season.
He said: "Santos reported no problem in Real Madrid and Barcelona paying (the asking price).
"Madrid want Neymar now, while Barcelona can wait another year.
Decision
"The two made their proposals, the numbers are good, but the decision is not mine, or the club's. The decision is Neymar's.
"We will not review the proposals until after the Copa America. It is not time for the kid to worry about this.
"He's going to analyse everything after the competition and tell us what he wants."