Kyle boost for Hearts
Jim Jefferies has revealed fit-again striker Kevin Kyle could be fit for Hearts' opener with Rangers.
Last Updated: 07/07/11 9:50am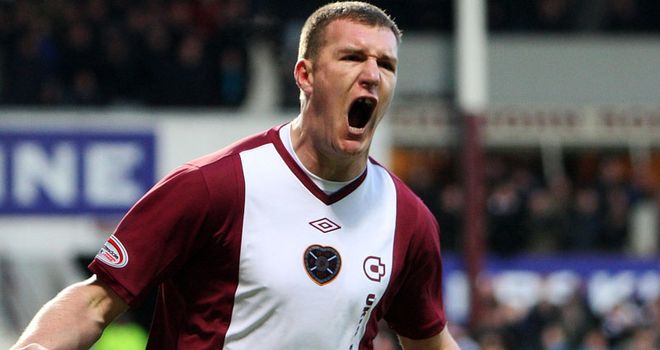 Hearts manager Jim Jefferies has revealed that fit-again striker Kevin Kyle could be fit for their season opener with Rangers.
The experienced forward was expected to miss the first few games of the new campaign after undergoing a double hernia operation in January.
The 30-year-old, who has missed Hearts' first two pre-season outings, was also troubled by a hip problem.
However, against the odds, boss Jefferies has revealed Kyle is ahead of schedule and could be in line to face Gers on 23rd July.
Ahead
"Kevin is coming on. We expected him to be months away but he's going to start stepping up his running next week," explained Jefferies.
"He's already doing it in short bursts. So he's way ahead of where we thought he would be.
"Unless he gets a setback I think he could only miss the early part of the season, maybe just a couple of games.
"He could maybe even surprise us all and be ready for the start of the season.
"That would be a lot to ask but he's been jogging for maybe 20 minutes or so and doing some other things.
"He's been out a long time, so his fitness levels aren't great. But that will come."