De Jong can feel the hate
Nigel de Jong believes that Manchester City are the team that the rest of the Premier League loves to hate.
Last Updated: 11/07/11 11:18am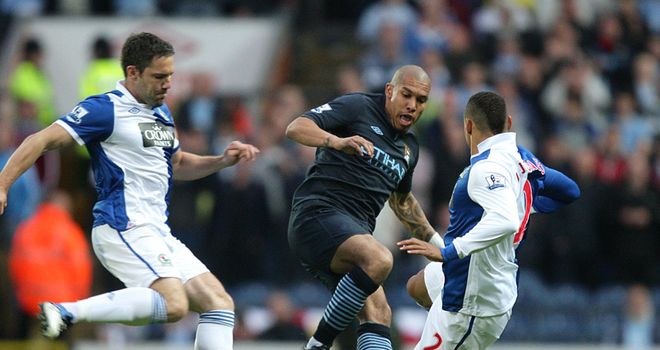 Nigel de Jong believes that Manchester City are the team that the rest of the Premier League loves to hate.
The Eastlands outfit have emerged as a force to be reckoned with in the top-flight due to the massive financial backing of owner Sheik Mansour.
Manager Roberto Mancini, who has almost limitless transfer funds at his disposal, guided the club to third in the table last season to secure UEFA Champions League football for next term and ended their 35-year silverware drought with victory in the FA Cup.
Combative midfielder De Jong accepts City's approach is not to everyone's liking, but feels that with further success they may be able to sway the opinions of rival supporters.
He told the Manchester Evening News: "We have taken over the role Chelsea experienced. During away matches you feel the hate for us in the stadiums and nobody wants us to be successful.
"That stopped at Chelsea when they won the championship and that will probably be the same for us.
Working class
"After we won the FA Cup I sensed there were changes in attitudes. City is still the working class club and we have to keep it like that but gradually we are getting better players and a more international allure.
"We have to mould a collective; a team has to be like your second family. Don't forget that an active transfer strategy intensifies the mentality of the players and everyone here including the big transfers has to fight hard for their place. That raises the level. And if you think that City only has to throw money about and do nothing else then in no time it will fail.
"It's all about forming a team that is going to be one of the top clubs in Europe, it won't happen in a year and everyone is aware of that, we're realistic but remain very ambitious."
Mancini is expected to again be busy in the transfer market this summer as he looks to turn his side into genuine title challengers, and De Jong feels that the majority of the squad is already in place.
The Holland international said: "I'm interested how next season will be and the players who will be coming. Personally I'm happy with the current players and there doesn't have to be many changes.
"I hope that above all that they look for supplementary quality as that is necessary to make the last step to the top, like finding the last piece in a jigsaw puzzle."
Preposterous
De Jong has come under fire personally in recent times, particularly in the wake of his performance against Spain in the World Cup final, and for the challenge which left Newcastle's Hatem Ben Arfa with a broken leg.
But the former Ajax and Hamburg man insists he would never attempt to hurt a rival player and that his full-blooded approach merely comes from his will to win.
He added: "I'm a player who goes fully into the duels but even suggesting that I deliberately go in with the intention of injuring an opponent is preposterous.
"It's simply I want to win and that feeling is deep in me and nobody can get that out of me."