Stokes - Blame the strikers
Anthony Stokes says Neil Lennon should blame the Celtic's strikers for failing to deliver the SPL title last season.
Last Updated: 13/07/11 10:11am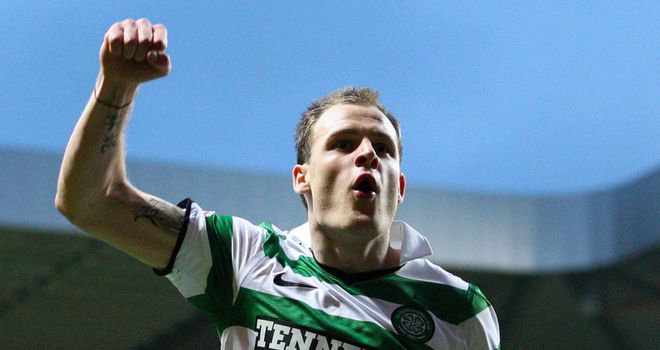 Celtic's Anthony Stokes says manager Neil Lennon should blame the club's strikers for failing to deliver the SPL title last season.
The Bhoys were in pole position to finish top of the pile last term before a surprise setback at Inverness allowed arch-rivals Rangers to seize the upper hand.
Stokes believes the club's forward should have contributed more in front of goal, particularly in the games Celtic failed to win - such as their goalless draw at Ibrox.
The former Hibernian and Sunderland man insists everyone is geared up to make amends this season and that the time has come to end Gers' three-year reign at the top.
Stokes has also criticised his own form in front of goal after netting 14 league goals in 29 appearances, stating a Celtic regular should be aiming for 25 goals per season.
Improvement
"We could have done more. We could have scored more goals, especially in the games we didn't win," explained Stokes.
"As strikers we didn't turn up in those matches and as a team we need to improve on last year because we didn't win the title and that was our main aim.
"The gaffer insists the championship must be our principal objective. We didn't achieve it last year so we have to bounce back this season.
"We were very disappointed not to win it last time but hopefully that memory will spur us on. We have to win the title.
"I have to do the business on the park when I get my chance. If you are playing every week at Celtic you should be aiming at 25 or more goals a season.
Business
"At times I haven't done the business the manager wants and he isn't doing his job if he's not on everyone's back. He wants the best for everyone and for everyone to improve.
"I've had fallouts with the manager but never anything major. It has been about little things but he has always been honest and told me where I stood. Never once has he told me my future is in doubt.
"Everything that happened last season is behind us and I have a good relationship with him. He has always been honest and you can't ask for any more from your boss than to know where you stand.
"It would be the worst thing if your manager wasn't straight with you, that you didn't know where you stood and that he was looking to offload you. That has never been the case."