Blues won't seek Essien cover
Chelsea technical director Michael Emenalo claims the club will not be looking to bring in cover for Michael Essien.
Last Updated: 13/07/11 7:08pm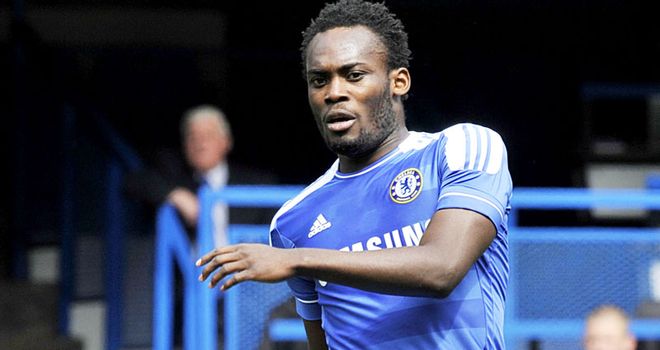 Chelsea technical director Michael Emenalo claims the club will not be looking to bring in cover for Michael Essien.
New Blues manager Andre Villas-Boas saw his plans for the new season take a huge blow last week when Essien suffered knee ligament damage, ruling him out for six months.
There are serious doubts about Essien's long-term fitness given that it is the third such injury of his career, and the London club have been linked with a number of replacements for the midfield powerhouse - most notably Scott Parker and Cheik Tiote.
It is understood that the clubs of those players, West Ham and Newcastle, have not received any official approach from Chelsea, but Tiote impressed last season with his combative displays and would be an obvious like-for-like replacement for Essien.
Part of Emenalo's new brief is to look after scouting and he would play a role in finding a replacement for Essien if asked to do so by Villas-Boas.
The Nigerian insists that the Blues will not be affected by Essien's injury, though, and has hinted that the club will not need to bring in a replacement.
"The squad is littered with world-class players and the idea of replacing someone or not replacing someone sounds a little bit ludicrous," he told Sky Sports News.
"We have enough in the tank to get the job done. He (Essien) will be missed. Everyone knows he is an important part of Chelsea and a magnificent player in the side for the club and he still will be when he recovers but I don't think there is any panic or desperation to replace him.
"We will do just what a club of our ilk should do and find the right solution."
Experience
Villas-Boas' arrival at Stamford Bridge is considered to be a gamble by some, given that the 33-year-old has only one full season's experience in club management with Porto.
Emenalo, however, thinks that the experience of coaching and scouting under the late Sir Bobby Robson and Jose Mourinho means he is the perfect man to lead Chelsea's title chase.
"He has shown in his relatively young managerial career that he can do the job," he said.
"I try to remind people that even though he is 33, Andre has 17 years of experience because he started so young.
"He has an incredibly large amount of knowledge about the game and we have absolutely no doubt whatsoever that he is the right man for the job.
"He has already started putting his prints all over the place.
"There is a new atmosphere and dynamism within the club and a freshness that everyone is trying to feed off. We are all feeling very positive about the future."