Bougherra could extend deal
Rangers' director of football Gordon Smith believes Madjid Bougherra is open to extending his Ibrox contract.
Last Updated: 14/07/11 7:35pm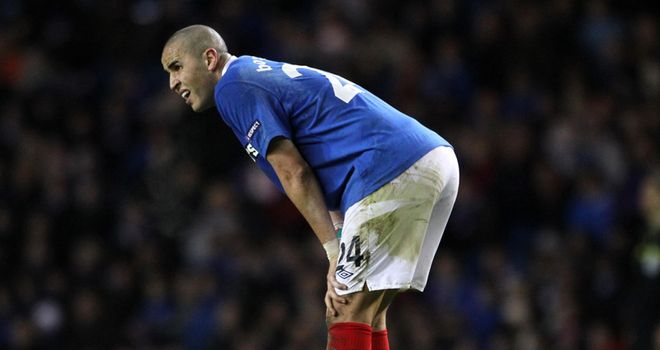 Rangers' director of football Gordon Smith believes Madjid Bougherra is open to extending his Ibrox contract.
The Algeria international is entering the final year of his contract and previously stated the time had come to seek out a fresh challenge.
However, the 28-year-old remains at Rangers and Smith insists the club were always planning on him playing for them this season.
The prospect that he will leave on a free transfer at the end of the season is now being dampened by Smith, who believes the defender could extend his deal.
"Madjid Bougherra, we were always looking to have him this season playing for us," commented Smith.
"The possibility now is that he's interested in talking further with us with a view to extending his contract.
"A lot of people just thought that Madjid Bougherra said he didn't want to stay at Rangers.
"But that is certainly not the case and there is a possibility that he could be staying for a longer time."
No rush
It has been mooted Rangers could re-sign unsettled Kenny Miller from Bursaspor, however, Smith insists the club will not be rushing in.
"There are two aspects we need to understand," Smith said. "Firstly, is he available and is he available at a price that we would pay?
"And is he willing to look at the wage structure in Scottish football as opposed to Turkish football?
"I'm sure that's what attracted him over there because he is very well paid.
"I understand he has made it clear to some people in the media that he realises if he comes back here it would not be on the same sort of basis financially."
Finally, Smith concluded that Dundee United's David Goodwillie remains on the club's radar, although his appearance for The Tangerines in their Europa League opener against Slask Wroclaw has not gone unnoticed.
"It's something we would have to consider because I think further down the line if we go through and play in the Europa League then I think he would be cup-tied," he said.
"He wouldn't be able to play in the initial qualifying games in the Champions League either so it is an issue but it's still definitely an option we would like to keep open.
"We have a few players who were recommended and we are assessing the options but he is certainly a player Ally is very interested in."