Warnock - DJ deal on hold
Neil Warnock says talks over DJ Campbell are 'on ice' after QPR failed to negotiate fees with his advisors.
Last Updated: 15/07/11 1:41pm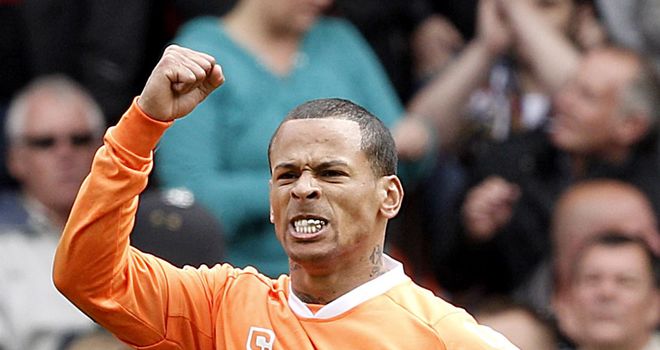 QPR manager Neil Warnock says talks over Blackpool striker DJ Campbell are 'on ice' after they failed to negotiate certain fees with his advisors.
After bolstering their strike force with the signing of Jay Bothroyd on a free transfer this week, Rangers are keen to further strengthen up front ahead of their return to the Premier League this season.
But discussions with Seasiders forward Campbell have ground to a halt and Warnock is unsure where they stand on the 29-year-old, who has also been linked with Fulham, Aston Villa and West Ham
Difficult
He told Sky Sports News: "I think the clubs have agreed but I don't think we can agree with his advisors (on) certain fees.
"I'm afraid that's life as a manager nowadays. It's very difficult to actually get things over the line. I leave that to other people but it's not happened.
"I think at the moment it's on ice. I'm looking around all over as well. We've got one or two irons in the fire. "
Even if a Campbell deal fails to materialise, Warnock believes he has a quality striker at his disposal in new-boy Bothroyd.
"To get Jay in on a Bosman is really a good bit of business for us," he added. "He's a top striker.
"I didn't think we'd get him, I thought one of the bigger clubs would snap him up. I've pestered him over the past six weeks, him and his missus, and he's caved in.
"I do think it's right for him. I think he's got to be playing week in, week out rather than be in a squad. I don't see anything better than him in the Premier League and we're really, really pleased to have him."
Rangers also completed the signing of former England international Kieron Dyer on a free transfer this week, and Warnock is hoping he can put his injury struggles behind him and impress this season.
Hunger
"I just like the look of him. It's not going to be financially crippling to us," he added.
"If he doesn't play games then he's not going to get paid very much. He accepts that, he wanted that.
"He could go anywhere. He could go to many places and pick money up now, which a lot of players do when they get over 30. But Kieron has got things to prove, he's still got that hunger.
"I don't think you'll pick a better Bosman up than Kieron and Jay Bothroyd. I like players that have got something to prove rather than just picking the money up."