Owen out to make mark
Michael Owen has declared that he hopes to play more regularly this season at Manchester United.
Last Updated: 16/07/11 10:09am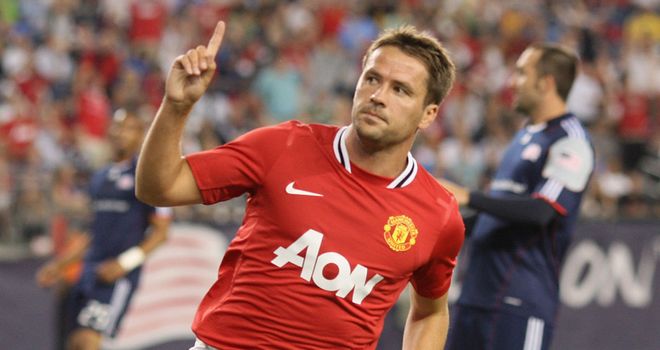 Michael Owen has declared that he hopes to play more regularly this season and is confident of enjoying more success with Manchester United.
The striker was handed a one-year contract extension at Old Trafford earlier this summer despite playing a bit-part role last term.
He is now looking forward to the new campaign after scoring the first goal of United's pre-season tour of America in the 4-1 victory over New England Revolution.
The 31-year-old expects to be given more opportunities to impress over the coming 12 months and wants to repay the faith shown in him by manager Sir Alex Ferguson.
"I always have high hopes and go into the new season with optimism," said Owen.
"The club took the option to extend my contract and that fills you with confidence because it makes you feel part of the team.
"You feel wanted by the manager and, when he told me towards the end of the season that he wanted me to stay, I was delighted.
"The manager obviously saw something that made him want to keep me and he says I will be involved a lot more this year, so I am hoping that's the case.
"I want to play a bit more and be successful - and it's important to me to do that."
Capable
While he accepts that competition for places means he will not play every game, Owen can take a lot of positives from what he has achieved in his career.
"It's easy to be confident when you know you can do it and I've done it thousands of times before," he explained.
"Some people may have short memories but I haven't. I know what I'm capable of and everyone at the club does too.
"We have some top players, it isn't easy playing every week when you have so many top players. But I'm relaxed about it and confident of doing well."
Owen also admits that playing a part in United's title-winning 2010/11 campaign has only increased his hunger for further glory.
He added: "When you have something you really want, you're delighted to achieve it - and I was delighted to win the title.
"But part of you wants another one and to play a bigger part next time."