Ramirez feels like a 'prisoner'
Gaston Ramirez has dropped his strongest hint yet that he will be on his way out of Bologna this summer.
By Simone Bargellini
Last Updated: 17/07/11 4:55pm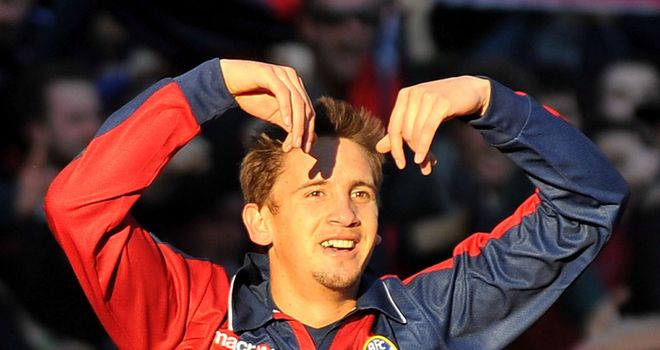 Gaston Ramirez has dropped his strongest hint yet that he will be on his way out of Bologna this summer.
The highly-rated Uruguayan has seen speculation regarding his future gather pace of late, with the transfer window now in full swing.
Having shone in Serie A last season, it is expected that the 20-year-old midfielder will soon be on his way to bigger and better things.
Ramirez claimed he was the subject of interest from Manchester City in April, with a bid reported to have been knocked back.
He refused to comment on the offer at the time, but has now made it clear that he is willing to consider a move elsewhere.
The highly-rated South American hopes Bologna will not stand in his way, with their actions so far suggesting they will play hardball and attempt to block any potential deal.
"I want to play for a club that competes for European trophies, that would be better for my career," Ramirez told La Gazzetta dello Sport.
"Bologna won't let me go at the moment and I feel like a prisoner.
Decision
"Bologna need to remember that I didn't say a word when I went without pay for four months. They have only paid me three million euros and how much do they want for me?
"I am a Bologna player but I will decide whether to remain here or not when I meet with club officials next week.
"Somebody different calls me from the club every day, so I no longer know who I need to talk to."
Bologna have responded to Ramirez with a statement of their own, which takes a swipe at the role the youngster's agent appears to be playing in transfer talks.
A statement released on the club's official website read: "Bologna FC 1909 suggests Ramirez's agents use their energy for something for more positive, seeing as though this club will not in any way allow itself to be drawn in by these tactics.
"The only result of this approach is to ruin a 20-year-old's public image.
"Ramirez has a valid contract with Bologna and the club will decide when and under what conditions to sell the player.
"We repeat, we have not received any offer worth taking into account and that, in the absence of appropriate proposals, regardless of what his agent may say, means Bologna plan to keep Ramirez for next season."