Fergie - Forget about Sneijder
Sir Alex Ferguson says it is time to forget about Manchester United signing Inter Milan ace Wesley Sneijder.
Last Updated: 18/07/11 6:48pm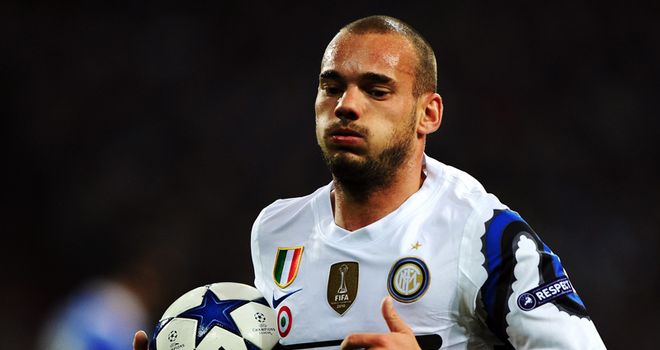 Sir Alex Ferguson says it is time to forget about Manchester United signing Inter Milan ace Wesley Sneijder.
Even though Ferguson denied having any current interest in the Holland midfielder on Thursday, there has still been plenty of speculation about a deal, including a claim that shirt manufacturers Nike may get involved to push it through.
However, when asked about Sneijder in Seattle on Sunday, Ferguson's response was blunt.
"Forget it," he said. "We are looking at some things but I am not so sure Sneijder will be easy to get."
Quality
United have been linked with various other targets this summer, but quality control at a side that has won four Premier League titles out of the past five and reached three UEFA Champions League finals in four attempts means most are dismissed as a waste of time.
"I could pick three or four players to come in but they wouldn't be good enough for us so there is no point," added Ferguson.
The future of United striker Dimitar Berbatov remains uncertain after Ferguson failed to find a place for him on the bench to face Barcelona in the Champions League final in May.
However, the United manager has not detected any lingering issues from a situation he feels is more commonplace now due to the massive squads big clubs have to operate with.
"Dimitar is fine," said Ferguson. "There is no problem. He has trained very hard.
"He was disappointed to be left out of the final but I was disappointed myself having to tell him.
"But that is the problem in football today. You get to the big games and you are not just disappointing one player, you are disappointing six or seven."
United ultimately lost out on European glory to Barcelona last season, and their clinical defeat in the final has been the subject of much analysis this summer, but Ferguson is preparing to send them on a Champions League revenge mission.
Challenge
And the manager is refusing to write his side off as inferior, adding: "Barcelona are the team of the moment.
"But it is not the kind of thing that makes you think 'let's not bother with European football any more, we are never going to beat Barcelona'.
"Manchester United are bigger than that. We have a better philosophy than that.
"The challenge will be can we improve enough to get to the final next season - and win?"