Ferguson rues bad timing
Newcastle's Shane Ferguson is battling to be back in time for the new season after suffering an ankle injury.
Last Updated: 20/07/11 3:46pm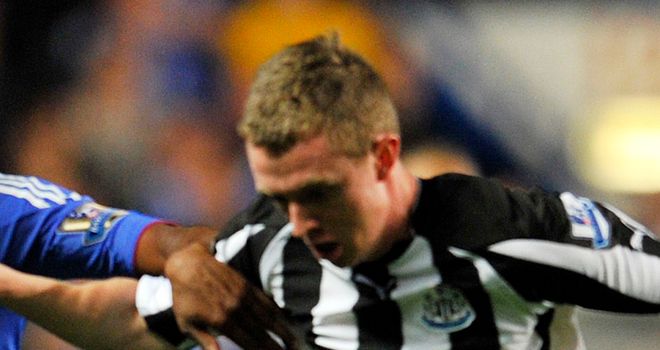 Newcastle's Shane Ferguson is battling to be back in time for the new season after suffering an ankle injury.
The 20-year-old sustained the injury in a collision with goalkeeper Fraser Forster during Friday night's friendly victory at Darlington.
As a result the versatile left-sided player, who can operate in defence or midfield, did not travel with the rest of the first-team squad when they flew out to the United States for a pre-season tour on Sunday.
While Ferguson, who recently signed a new deal to keep him at St James' Park until 2016, rued the timing of the injury, he has vowed to battle back as quickly as possible.
He told the club's official website: "I'm absolutely gutted [at not going to America]. It's the worst timing ever.
"I have just got to try and get fit now, hopefully before the start of the season and if not, then just a little bit after."
Richardson hopes
Meanwhile, 19-year-old Michael Richardson has spoken about his hopes of breaking into the first team this term.
Richardson made the bench four times as last season's Premier League campaign drew to a close, and despite the summer arrivals of midfielders Yohan Cabaye and Sylvain Marveaux, is hoping to make the breakthrough this time around.
He said: "It makes it harder, but it's also good for us as well because it's good to learn from them.
"They have come in and they are different kinds of players and the more and more we train with them, the more we are going to be better for it.
"We are playing against better players, so it's only going to help our progression."
The teenager was working as an electrician for Newcastle City Council and playing junior football for local club Walker Central when he was offered a trial by the Magpies last season.
His elevation to the first-team ranks came after he impressed development coach Willie Donachie and reserve-team manager Peter Beardsley.
Working hard
He said: "I just have to keep working hard in the reserves first, keep playing games and hopefully play to the best of my ability to impress Willie and Pete.
"Then if they see something, they will obviously tell [first-team coach] Steve Stone or [assistant manager] John Carver or the gaffer, and hopefully I will be pushed in."
The likes of Steven Taylor, Andy Carroll and Shola and Sammy Ameobi have in recent years proved that the potential for home-grown players to emerge from the ranks on Tyneside still exists, and it is the Ameobi brothers, themselves Walker Central old boys, who are providing the spur for Richardson.
He said: "That's what they [Walker] get through to their youngsters - they see Shola, Sammy and me coming through and then actually playing for Newcastle, and it gives them the incentive to do the same."
The younger Ameobi got his big chance at Chelsea on 15th May when he joined his older sibling on the pitch as a substitute, and that moment cannot come soon enough for Richardson as he attempts to complete the transition from fan to player.
He said: "It's every little boy's dream to go on and play for Newcastle United's first team.
"Some weeks, you go to watch them and you are sitting watching them doing the warm-up thinking, 'I wish that was me out there'.
"A couple of weeks later, you are, so I suppose you have to pinch yourself, but keep your feet on the ground at the same time."