No Euro concerns for Hughes
Fulham's Aaron Hughes insists an early start will not affect their preparations for the Premier League.
Last Updated: 22/07/11 1:34pm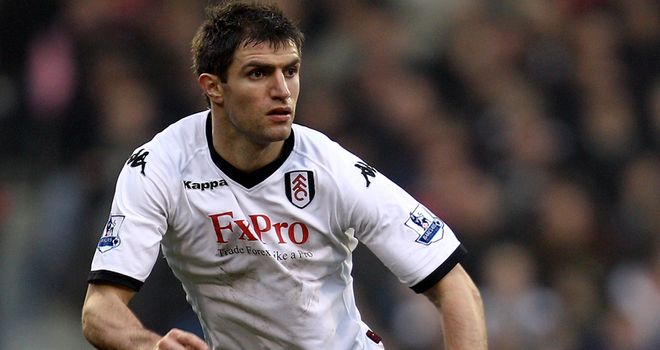 Fulham defender Aaron Hughes has dismissed suggestions that an early start to the season will affect their preparations for the Premier League.
The West Londoners secured a safe passage to the third qualifying round on Thursday night with a dominant 4-0 victory over Northern Irish part-timers Crusaders, making it 7-1 on aggregate over the two legs.
The match was Fulham's fourth competitive game of the season, having started their European campaign against Faroese minnows NSI Runavik on 30th June.
But Hughes does not think the early start to the season will impact upon Martin Jol's team in what could be a marathon season.
"It hasn't been too difficult to adapt to the early start," he said. "We've tried not to upset our pre-season, if you like.
Tweak
"The games are slightly different because they are competitive but we're still working through things in training with the new season in mind.
"Obviously we maybe have to tweak one or two things in the build-up to competitive games, but I think once we knew we were coming back early it was definite then.
"You get your head round it and you carry on"
Andrew Johnson, Damien Duff, Bobby Zamora and Steve Sidwell netted in Thursday's second leg at Craven Cottage to set up a tie with RNK Split of Croatia.
Hughes admits that he knows little about next week's opponents but promises that Fulham will not take their trip to the Adriatic coast lightly.
"We will do exactly the same as we would do if we were going to play Manchester United," he said.