Taarabt staying at QPR
QPR have announced captain Adel Taarabt will be staying at Loftus Road this summer despite speculation over his future
Last Updated: 23/07/11 6:22pm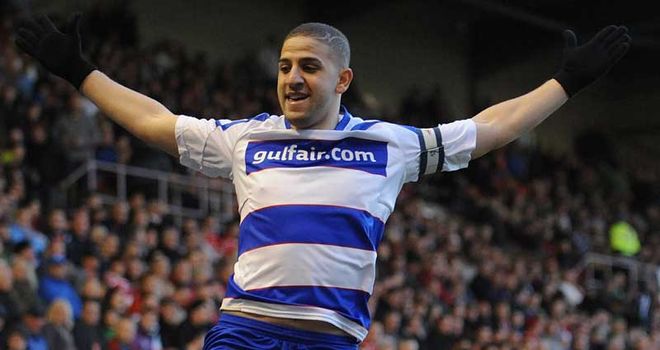 QPR have announced captain Adel Taarabt will be staying at Loftus Road this summer despite speculation over his future
Taarabt has been strongly linked with a move to Paris Saint Germain this summer with the French club making a bid for the playmaker.
Both clubs are thought to have held talks this week about a possible deal, but it appears the deal has broken down.
QPR have confirmed the Moroccan will now remain at the club for the start of the new season as they prepare for life back in the Premier League
The 22-year-old has established himself as a key member of the QPR since since arriving on loan from Tottenham in the summer of 2009 before making the move permanent a year later.
Taarabt skippered QPR to Championship success last term and was named as Football League player of the year following a string of impressive performances.
News that Taarabt will be staying at the club will come as a massive boost to Rangers boss Neil Warnock as the big kick-off draws ever closer.
"We are pleased to confirm that Adel Taarabt will be staying at QPR this summer," read a statement on behalf of majority shareholders Bernie Ecclestone and Flavio Briatore.
"Despite receiving a substantial bid for our Moroccan international, we rebuffed all approaches and indeed, we are keen to build for the future in the Barclays Premier League, and not sell one of our prized assets."
Denial
Warnock suggested earlier this week that he was unlikely to get any of the funds from any sale of Taarabt, but Ecclestone and Briatore have moved to reject the suggestion by claiming money would have been available for new faces if Taarabt ended up being sold.
"Should we have decided to sell Taarabt this summer, we made it clear to Neil Warnock that we would reinvest funds into the squad," continued the statement.
"Taarabt is fully committed to the club and is looking forward to proving his undoubted star quality for QPR in the Barclays Premier League.
"Our decision not to sell him only serves to reiterate the ambition and commitment we have both shown to QPR since we arrived here.
"We saved the club when it was close to relegation from the Championship and just one week from liquidation.
"At this time, Flavio Briatore outlined a four-year plan to reach the Premier League, which was achieved.
"We have always owned approximately 70 per cent of the shareholding at the club and have been the major benefactors since our arrival.
"We have backed Neil Warnock in bringing in his two top targets, Jay Bothroyd and Kieron Dyer, and we are working hard to try and pursue a couple of other targets the coach has identified.
"Welsh international Danny Gabbidon has impressed the coach whilst on trial and we are aiming to add him, as well as at least one or two other players to our squad in the near future."
Support
The statement also reiterated the board's support for manager Warnock, although Ecclestone and Briatore confirmed that they have spoken to the former Sheffield United boss about toning down his comments to the media.
"Neil Warnock is our coach and we are working closely with him in a professional and confidential manner to try to achieve our aims and objectives," the statement added.
"The coach's job is to coach the squad and identify players he believes will improve the squad. As a board, we deal with all the negotiations and we have been successful in completing deals for Bothroyd and Dyer so far.
"We are aware of some issues that have been raised in the press by the coach, but we have discussed these with him internally and he has agreed to be more reserved in terms of what he discusses in the future.
"We are fully committed to strengthening our status as a Premier League club next season and in due course, build for the future.