Evra urges Nasri to join him
Patrice Evra is hoping private conversations with Samir Nasri will see his fellow Frenchman join him at Man Utd.
By Chris Burton
Last Updated: 25/07/11 8:41am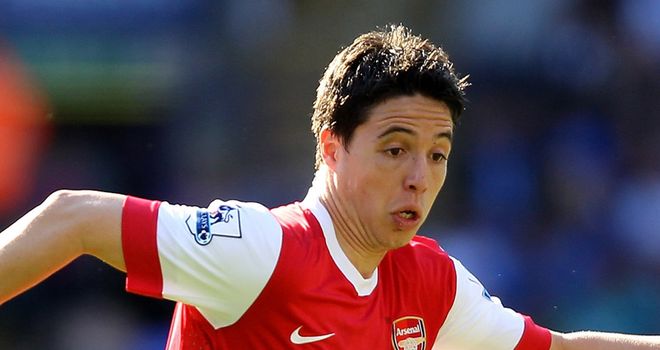 Patrice Evra is hoping private conversations with Samir Nasri will see his fellow Frenchman join him at Manchester United.
The Red Devils are one of the clubs keeping a close eye on Nasri's situation at Arsenal, as he enters the final year of his contract.
The France international has expressed a desire to move on this summer, citing a lack of success at the Emirates as his reason for wanting to take on a new challenge.
United would be prepared to offer him the fresh start he craves, but are aware that local rivals Manchester City are also keen on the talented 24-year-old.
Evra hopes a quiet word in Nasri's ear will help to swing things in United's favour, but concedes that he has no idea what the immediate future holds for his international colleague.
Prince
"I've talked a lot with him in the holidays and told him how great it is to play for Manchester United and how important it would be for him to become one of the biggest players in the world," he said.
"I remember I made that little joke saying that he's a prince now but if he wants to be the king then he has to join Man United. But that's the reality - and I've told him that. I said, 'If you want to win trophies, you have to come here'.
"In five years I've won 12 trophies and I don't know if I'd have won more than that with another club. So I just told him the truth.
"I don't know how negotiations are at the moment, but he has a lot of clubs interested in him and he has to think.
"I just told him how good it would be for him coming here. He will have a nice welcome, and I can help as well because I'm French.
"We've spoken a lot in the summer and also when we met up for friendly games with France at the end of the season. It was looking interesting but I don't know, we'll have to see."
Respect
Arsenal boss Arsene Wenger is doing his utmost to keep Nasri in north London, while also fending off renewed interest in Cesc Fabregas from Barcelona.
The French tactician has grown accustomed to dealing with such situations, but has called on the relevant authorities to help make his job easier by stamping down on those who continue to bend transfer rules.
Asked if any clubs had tapped up his players, he said: "I would like to return the question to you. What do you think?
"We live in a realistic world. I do not want to assess what I cannot prove, but I know how things happen."
He added: "It doesn't necessarily go through the player or the agent, but I think it is a rule that has to be reviewed. It's not really respected."