Houston firm over Goodwillie
Dundee United will not allow striker David Goodwillie to join Rangers unless their asking price is met.
Last Updated: 26/07/11 7:14pm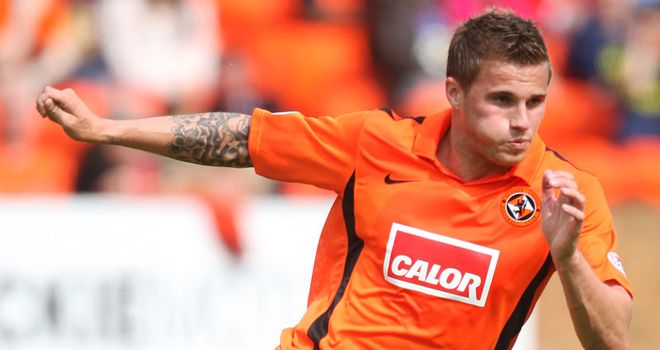 Dundee United will not allow striker David Goodwillie to join Rangers unless the Ibrox outfit meet their asking price, according to manager Peter Houston.
United are understood to want £2million for the 22-year-old, who has been the subject of two bids from the Ibrox club, both closer to the £1million mark.
Interest in Goodwillie, who has two years left on his contract, has intensified over the last 24 hours after a serious sexual assault charge against him was dropped.
Blackpool are reported to be considering an offer but another club closely linked with a move for the Scotland international, Cardiff, have now completed the signing of Kenny Miller.
Houston said: "First and foremost, he'll not be going anywhere unless someone puts money on the table.
"We've got here a lad who scored 20 goals or something like that (17) last year in the SPL. That's brilliant for a provincial club like Dundee United.
"Rangers normally supply more chances than Dundee United - and I don't mean any disrespect to our boys - so how many goals is he potentially good enough to score for Rangers if he did go to them, for instance?
"The chairman has made it well known what his valuation of the player is. If somebody wants to pay that and the chairman wants to accept it, David will be away."
Think carefully
Earlier this month, Houston advised Goodwillie to leave Scotland to rebuild his life and career.
The striker was initially charged with the sexual assault in January before the case was dropped on Monday.
He is also the subject of an investigation into an alleged assault in Glasgow in November last year.
Houston said: "David said earlier that he wanted to go down south to get this nonsense out of the road. I don't know if that's changed yet.
"All I'll say to him is, think carefully where he is going to go."
Scotland manager Craig Levein has opened the door for an international return for Goodwillie, whose one cap came in the November friendly win over the Faroe Islands.
Houston said: "We've said all along about David getting his career back on track, fully focused on football, and now he can do that.
"David Goodwillie on the park has been sensational over the last season, even since this has hung over him."