Stokes defends Ireland decision
Anthony Stokes is relishing a Dublin return with Celtic - as he reckons an international recall is not imminent.
Last Updated: 27/07/11 10:00am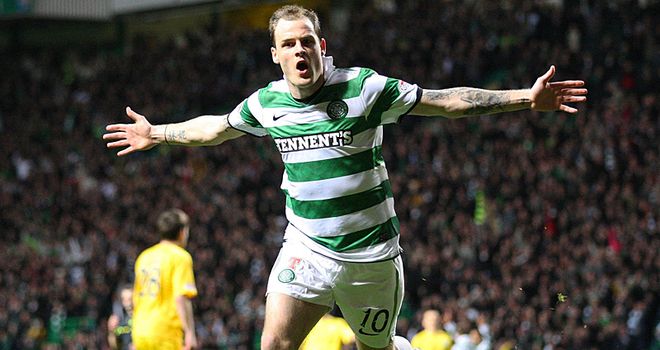 Anthony Stokes is relishing a return to Dublin with Celtic - because he reckons he will not be doing it with the Republic of Ireland any time soon.
Celtic are set to play in the Dublin Super Cup this weekend, with games lined up against Inter Milan and an Irish League XI at the Aviva Stadium.
Stokes turned down the chance to play at the new stadium in May when he pulled out of Ireland's squad for the Carling Nations Cup clashes with Scotland and Northern Ireland, as well as the friendly win against Italy.
And although the 23-year-old striker, who scored in Sunday's 2-0 win over Hibs, insists he did nothing wrong, he believes he has no chance of an international recall while Republic manager Giovanni Trapattoni remains in charge.
"It will be brilliant to play for Celtic in Dublin because my family don't get the chance to come over that often," he told the Daily Record. "All my friends will be coming along as well so I'm really looking forward to it.
Furore
"I saw the furore in the papers when I pulled out of the squad but it's just one of those things.
"Come the end of the season people pick up niggles and knocks and you don't have a lot of time off.
"That's just part and parcel of football I suppose. You name 30-man squads for these end-of-season games and the more players you have, the more niggles you'll have."
Stokes believes he has been the victim of a smear campaign, saying FAI insiders claimed he could not be bothered to play for his country.
"I was asked about it once or twice and I didn't really say much but I never came out and said I was too tired - I think that came from the Irish camp," he said.
"I just didn't feel I needed to come out and explain every reason for not going.
"It was a short run-in and we only had three weeks off after a long, hard season - players need to rest up sometimes.
Struggle
"But after not going with the last squad I'll struggle to get in again. I want to play for Ireland but with Trapattoni there I'm going to struggle.
"There's nothing I can really do about it other than concentrate on my club form. Hopefully I'll get the call but if it doesn't come then there's nothing more I can do.
"All I can do is score as many goals as possible. I'm feeling good to go now after some hard training and a few games, and I got a boost when I started against Hibs at the weekend. I was delighted to play and glad to get on the scoresheet as well.
"I don't see why I should get a negative reaction from the Irish fans at the weekend. I want to play for Ireland and if I get the chance, I will."