Scholes impressed by Modric
Paul Scholes believes wantaway Spurs midfielder Luka Modric would be a worthy signing at Manchester United.
Last Updated: 28/07/11 4:09pm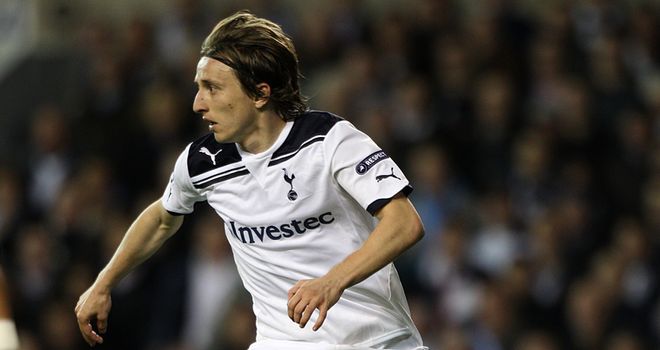 Paul Scholes believes wantaway Tottenham midfielder Luka Modric would be a worthy signing at Manchester United.
United chief David Gill has revealed United are looking to bring in one more new face this summer, with a creative midfielder strongly rumoured to be on their wishlist following Scholes' retirement at the end of last season.
Modric, Inter Milan ace Wesley Sneijder and Arsenal midfielder Samir Nasri are the names that have been most heavily linked with a move to the Premier League champions.
And while Scholes feels any one of the three players would be a welcome addition at Old Trafford, the 36-year-old admits Croatia international Modric has particularly caught his eye.
Impressed
"The ones who have been linked all look like they are capable of playing for United," he told Manchester Evening News.
"The three linked the most with United are all great top players. Of the three Modric, when we've played against him, has been the one I have been most impressed with.
"Whenever we played Tottenham, he was the one who stood out."
He added: "But there are no guarantees. You could sign Sneijder for £35-40m and it might not work out. He went to Real Madrid and it didn't quite work out for him there, so you just don't know."
The future of Modric remains uncertain, with Spurs maintaining he will not be sold at any price after refusing him a move to London rivals Chelsea.
While Scholes admires the 25-year-old, he insists finding a replacement for himself is not a necessity for United, pointing out that he has not been as prominent in Sir Alex Ferguson's team over recent years.
He added: "I don't think it is a big deal really replacing me because I haven't been the type of player people are talking about for the last four or five years.
"I haven't been scoring goals or been the main playmaker in the team for a while. I don't think I actually need replacing in that way at all.
"I wasn't the pulling the strings anymore, definitely in the last two years and probably even since I was 31-32. I haven't been as prominent in the side. I wasn't scoring the goals and I wasn't making the goals."
Threat
Scholes is adamant United will pose a major threat next season whether they bolster their midfield or not, and has confidence in the options already at manager Ferguson's disposal.
"The players already at the club have got the chance to go on and stake big claims," he added.
"I wouldn't have any worries going with the players already at the club. We have loads of talent who can play there. Ryan Giggs did it brilliantly last season, Darren Fletcher, Tom (Cleverley), Anderson, Michael (Carrick) and Ji-sung Park can play there.
"There are no concerns at all I think we are as good and probably better in that department than we have ever been."