AVB - City will challenge
Chelsea manager Andre Villas-Boas is wary of the threat posed by Manchester City in the title race.
Last Updated: 29/07/11 3:56pm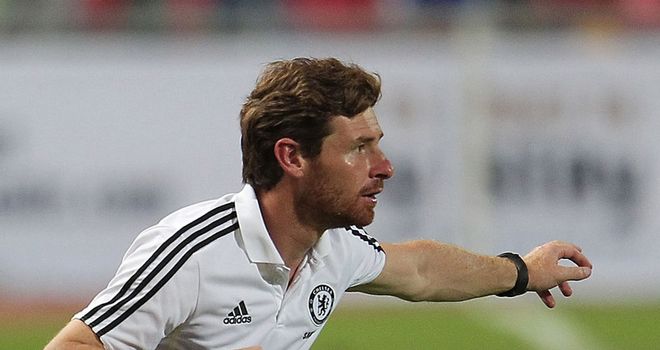 Chelsea manager Andre Villas-Boas is wary of the threat posed by Manchester City in the Premier League title race after their summer recruitment policy.
Argentine striker Sergio Aguero joined City in a deal reported to be worth around £38million on Thursday to add to a squad already bursting with world-class talent.
Perennial big-spenders Chelsea have, so far, been unusually quiet despite seeing most of their title rivals invest heavily in new players.
Villas-Boas has been impressed by Roberto Mancini's transfer business and feels City's financial dominance makes them a force to be reckoned with.
"I think it's pretty clear that they are building a squad to fight for the title," he said ahead of Chelsea's clash with Aston Villa in the final of the Premier League Asia Trophy on Saturday.
"It's for Mancini to say what his objectives are but my personal perspective is that they are making good signings and that they can threaten for the league."
However, Villas-Boas still feels this season's title race could be the closest yet.
"I think Man United as the title holders will be a reference for everybody but you can see the amount of activity Manchester City have had in the market. It's pretty clear they have a title objective as well," he said.
"Liverpool did more or less the same, Tottenham want to get back into the top four so they'll be challenging and Arsenal are always a threat - we haven't seen the last of them in the transfer market - so everybody is strengthening and as long as everybody feels happy with what they have, everybody competes in a different way."
Evaluation
Chelsea, meanwhile, have yet to make any significant moves despite being heavily linked with moves for Tottenham's Luka Modric and Javier Pastore of Palermo, instead focusing on bringing in younger players like Oriol Romeu and Thibaut Courtois.
"It all boils down to the evaluation period, there's still plenty of time for those decisions," added Villas-Boas.
"The players that we have shown interest in are young and looking to the future of the club, you might see similar moves in the future from us. It is one of the oldest squads in the Premier League, we respect them and we are happy enough with the quality that we have to challenge for the title but we are also looking into the future.
"We are so comfortable at the moment with what we are getting because of the young players we have. Things for the future are brighter for us in that respect."
Young talent
Two of those young stars, Daniel Sturridge and Josh McEachran, look set to be more involved in the first team this season under the Portuguese boss.
"I wouldn't like to focus on an individual but I think Daniel deserved above all to come back to this club and have this pre-season with us," he said.
"This is the group where he belongs and I think he has shown the quality he has at Bolton when he went there. He has a natural ability and amazing physical qualities and I think he is showing what he did at Bolton was enough for him to make a point at Chelsea.
"For Daniel, his time at Bolton was an amazing period for him, based on that he got into the England Under-21s for the European Championships and he is again a great prospect, I have no doubt about it.
"We will make a decision soon and we will inform Daniel on his situation but I think he has shown a lot of his qualities and abilities and he has the capacity to be in this squad.
"I spoke to Josh at the start of the season about where he felt best on the pitch. The position six for me is a very, very important position and I know that Josh touches more of the ball in that position and likes to organise play.
"But he also likes to face the play more often and he has the vision to see people in attacking options and it's good for me to test him as a number eight, further forward. He has the tactical and technical ability to fulfil both positions."